News; Jun 5, 2006 CET
Two cancer specialists to contribute to new alternatives to smoking
Continued focus on increasingly pure Swedish snus. Continued development of products as alternatives to smoking, and more research on snus. These are some of the issues to be addressed in the future by cancer physicians Lars Erik Rutkvist and Freddi Lewin in their capacity as medical specialists.
Swedish Match has long been a pioneer in the development of products that offer an alternative to cigarette smoking. This applies in particular to Swedish snus and the GOTHIATEK® standard, which in turn has resulted in Swedish snus now being regarded as a category in itself by most researchers. Inger Wahlberg, Swedish Match's head of research for many years, has been a key figure in this development. When she retires in the near future, the baton will pass from a doctor of chemistry to two physicians and cancer specialists.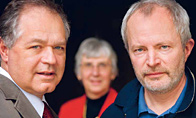 Lars Erik Rutqvist, who will be Chief Medical Officer at Group level for smokeless products, joins Swedish Match from a position as senior physician in oncology at Karolinska University Hospital in Huddinge, as does Freddi Lewin, who will fulfill a corresponding role in the North Europe Division.
Inger Wahlberg has become something of a world authority on tobacco chemistry, while Lars Erik Rutqvist and Freddi Lewin have also gained world recognition for their contributions to research on snus and cancer.
Both have been involved in the major epidemiological studies of snus consumption and various forms of ear, nose and throat cancer conducted in Sweden, which were unable to demonstrate any increased risk from using Swedish snus.
Both physicians are convinced that the conclusions from these studies are reliable and that snus can therefore be regarded as a tool for combating the harmful effects of smoking. Nevertheless, the debate on this issue continues to arouse strong feelings at times. So what is the current situation, from a scientific viewpoint, regarding the possible harmful effects of snus?
LARS ERIK RUTQVIST: "I think it is important to focus on the large groups of illnesses which we know can be caused by smoking - namely, cancer and cardiovascular diseases. Several extensive and reliable Swedish studies have reached unambiguous conclusions regarding whether snus has similar effects. They show that there is no evidence to suggest that snus users run any increased risk of cancer or cardiovascular diseases. In this respect, science gives strong support to the claim that snus is a far better alternative than smoking. This is also where significant public-health gains can be achieved by offering alternatives to smoking for those who have difficulty abstaining from nicotine."
FREDDI LEWIN: "In this context, it is important to note that nicotine is a highly addictive substance, which is precisely why it is difficult for some people to totally abstain from it. Nicotine also has pharmacological effects. But it is not nicotine that gives people cancer; it is all the hazardous substances in the smoke."
LARS ERIK RUTQVIST: "It is completely inappropriate for pregnant women to use nicotine in any form, and this also applies in the case of certain cardiovascular diseases, but otherwise I agree - people don't get cancer from nicotine."
FREDDI LEWIN: "The key factor is to be able to set the right priorities and refrain from moralizing. There are now ample studies that show that snus is relatively harmless compared with cigarette smoke."
"At the same time, there is a group of people who have a general antipathy to tobacco products, and their arguments can make it difficult to convey the difference. They often avoid making comparisons with smoking. In their need to motivate their basically moralistic arguments, they resort, for example, to asserting that it is impossible to prove scientifically that snus is entirely harmless."
LARS ERIK RUTQVIST: "Many anti-tobacco campaigners are idealists who are zealous about their cause. In the absence of cogent arguments, this can lead to confrontation rather than discussion. Nevertheless, much progress has been made in the Swedish debate. Today, virtually everyone accepts that there is a difference. When we started our major study in the late 1980s, everyone `knew´ that snus caused cancer. To some extent, we also believed that we would arrive at the same conclusion, which meant that the actual outcome was a considerable surprise to us too."
INGER WAHLBERG: "Nonetheless, the old attitude remains deeply ingrained in some people. Perhaps it is based on a wish that in the best of all possible worlds, all drugs and stimulants would have been eliminated."
If, despite the diehards, the realization begins to spread that there actually is a major difference between smoking and snus, what effect might this have on efforts to curb smoking?
LARS ERIK RUTQVIST: "Anti-smoking measures should be pragmatic and focused on the actual causes of illness. Cigarette smoking is the primary cause of the epidemic of smoking-related cancer that is spreading throughout the world. Viewed in this perspective, it is reasonable to accept smokeless products as an alternative, and the more effective they are, the better. Many interesting new products in this category are currently being developed."
INGER WAHLBERG: "Snus fulfills an important function, since the pragmatic anti-smoking campaigners need a product - not just a vision - to point to as an alternative."
"We actually have the same goal as they do - namely, a cigarette-free society."
FREDDI LEWIN: "Despite lingering resistance, a fairly dramatic change has taken place during recent decades regarding the image of snus. Swedish Match's strategic choice of direction, combined with the efforts of Inger Wahlberg and others over many years, has made a strong contribution to this change."
INGER WAHLBERG: "Yes, I think it has been a rather successful journey for snus - from having been a moribund product to its present position as Sweden's major tobacco product. A number of social trends have contributed: health awareness, the fact that it has become inconvenient and uncomfortable to smoke, and major product improvements."
This has been Inger Wahlberg´s main focus over the years - making the product increasingly pure.
INGER WAHLBERG: "We were in fact pioneers in this area and completely redesigned our entire production chain, from cultivation to storage in retail outlets. We have been tough on our growers and raw tobacco dealers, and nowadays we are known worldwide for imposing stringent demands, particularly regarding the nitrosamine content. I don´t believe there is a single tobacco grower today who has not heard of nitrosamines."
"It has been a very long-term process that is now receiving increasing recognition internationally. The studies conducted by Lars Erik and Freddi, which have received worldwide attention, have also contributed. Sweden is unique in that there are sufficient numbers of snus consumers to permit large, reliable epidemiological studies, the results of which have surprised the international research community."
"A major WHO conference is to be held in the US this summer, and I doubt there will be anyone attending who has not heard about Swedish snus."
"Our work has also influenced competing producers, and most snus products marketed in Sweden now adhere to the GOTHIATEK® standard. It is commendable and a strength for the entire product category that there is no poor-quality snus in the Swedish market."
What form will Swedish Match's future efforts take in terms of measures to reduce the harmful effects of smoking and minimize the risks associated with tobacco consumption?
LARS ERIK RUTQVIST: "A key task is to continue the work that Inger has led to date aimed at persuading the authorities to demand that limit values be set for various substances in tobacco. This is vital when you are promoting your product in the world market."
INGER WAHLBERG: "So far, progress with the authorities has been incredibly slow, so what we have done is to show that a voluntary approach is also possible. We do not need to sit around waiting for official decisions. In our GOTHIATEK® standard, we have established our own stringent requirements regarding limit values, and these are posted on the GOTHIATEK® website. At the same time, for competitive reasons, we would naturally like other producers to be persuaded to publish their standards."
LARS ERIK RUTQVIST: "The focus in future will also be on producing increasingly pure snus. It is particularly important to continue reducing the nitrosamine content. This is crucial despite the fact that nitrosamine levels are already far below our own limit values and substantially below the values that applied when the major Swedish studies were conducted that did not identify any risks attributable to Swedish snus."
INGER WAHLBERG: "Yes, we do in fact maintain amazingly low levels. But they should be further reduced in the case of nitrosamines. For my part, the snus of the future must have an extremely low nitrosamine content. If snus is to replace smoking, it must also be consumer-friendly and good value for money. This give society a means of control if it is prepared to use it, by taxing the really harmful products - meaning cigarettes - at a considerably higher rate."
LARS ERIK RUTQVIST: "We also want to do more work to fill the gaps that still exist in the scientific documentation – for example, concerning the role of snus as a long-term alternative to cigarette smoking. I don't know who will conduct these studies, but it is important that they be done, and with a high quality, so that they cannot be dismissed. We regard it as a vital task to continue disseminating information about the potential of snus in public health work by stating our case to the authorities, the general public and politicians. There are currently many untruths in circulation in the public-health debate."
LARS ERIK RUTQVIST: "Yes, it is amazing how little the general public still know about what science actually says about snus. So I also hope for a continued fruitful dialog with the research community, in the hope that the knowledge that exists can be disseminated and that we can help to stimulate further research into the questions that still remain unanswered."