Sustainable Tobacco Program
The Sustainable Tobacco Program (STP) is an industry-wide initiative, jointly developed by tobacco manufacturers and experts in this type of program development, to drive standards in agricultural practices as well as environmental management and key social and human rights areas. Through industry leverage the program delivers impact and continuous improvement in the tobacco supply chain.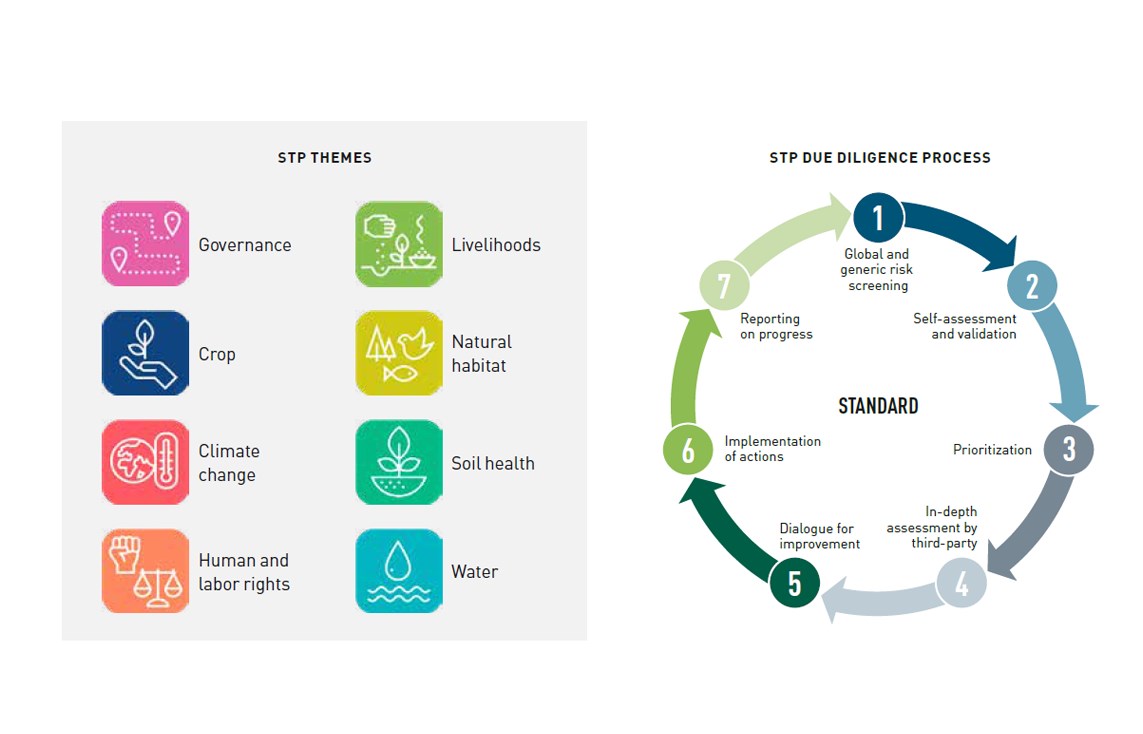 Why we perform due diligence through STP
Swedish Match sources tobacco through major international suppliers, which contracts individual farmers seasonally. We have estimated that approximately 15,000 farmers scattered across the world are growing tobacco used in our smokefree products. With the industry sharing most of the tobacco growing markets and by working together within the industry in a non-competitive manner, we can use our joint leverage to drive social and environmental impact. The joint leverage helps the suppliers to focus on continuous improvement of their own sustainable practices rather than put extensive efforts on answering requests from each individual customer. Therefore, the industry collaboration through STP is a key element in our efforts to drive towards our sustainability goals and targets not least in relation towards prevention and mitigation of child labor and other human right risks in our tobacco supply chain. Currently the STP covers nearly all of our tobacco suppliers for smokefree products. For more information on our efforts on human right issues in our supply chain, see page Human rights in our supply chain.
STP is developed in line with relevant UN SDGs as well as global standards, guidelines and reporting frameworks, e.g. WHO, UN Guiding Principles on Business and Human Rights, ECLT Pledge, ILO, GAP US, OECD-FAO and CDP. The program is governed by the STP Steering Committee and managed by the STP Secretariat. The STP Steering Committee consists of representatives from PMI, JTI, BAT/RJ Reynolds, Imperial Brands, Altria and Swedish Match. The STP Secretariat is an external party that holds a secretarial, project management and sustainability expert advisory role.
Evolvement of STP
Over the past two years, Swedish Match has been a key contributor in evolving the STP into a new program, with a stronger focus on impact, risk and continuous improvement. The new STP includes a comprehensive risk assessment process to help rank the suppliers and make priorities for further reviews, followed by corrective action plans. Results from the supplier's risk assessment will be available directly in a digital system to enable consolidation, benchmark and management throughout the process.
The new STP addresses eight common industry priority themes: Governance, Crop, Climate change, Human and labor rights, Livelihoods, Natural habitat, Soil health and Water. An industry guidance is defined for each theme, with specific goals and indicators to measure impact and track progress.
The program was launched during the fourth quarter in 2020 and participating suppliers of tobacco leaf have been invited to answer theme-specific questionnaires. The first self-assessment cycle is expected to be completed during 2021. Future reviews will be done annually and based on the crop cycle. The aim of the first 3-year cycle is to perform third-party assessments on the subsidiaries of our suppliers that are located in geographies where there is an elevated risk of non-compliance with the high standard set by STP for each theme.