Materiality assessment
Result from our materiality assessment conducted in 2020 provided support that the direction we have taken is the right one. Only slight alterations have been made to reflect relevant trends and stakeholder feedback, resulting in five updated focus areas. These areas provide the foundation for our sustainability strategy and ambitions.
Assessment process
The process was facilitated by an independent leading audit firm in Sweden and the approach to identify the material areas included three steps.
Scanning of general trends and identification of topics
Stakeholder dialogue
Review and validation by the Group Management Team
1. Scanning of general trends and identification of topics
The first step was to identify a long list of material sustainability topics most relevant for Swedish Match. The scanning was based on a comprehensive review of the UN Sustainability Development Goals (SDG), benchmark assessments of peers within the food and beverage industry, commentary from critical ESG ratings, as well as current and emerging sustainability directive and regulations that might affect the Company. The findings from the review, as shown below, resulted in a total of 17 topics, divided into five overall categories based on focus areas at that time and suggested additions. Alongside this, key internal and external stakeholders to Swedish Match were identified for stakeholder dialogue.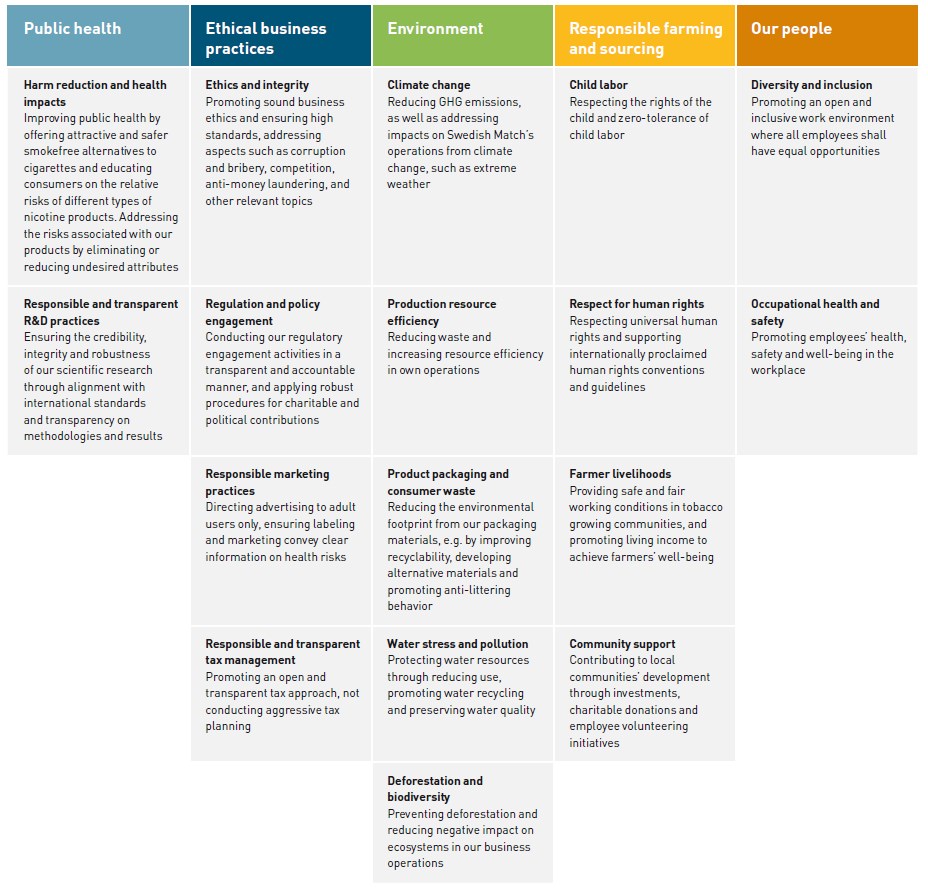 2. Stakeholder dialogue
A variety of stakeholder groups were engaged in the dialogue, including investors, business partners, the Group Management Team as well as representatives from employees, consumers, regulators and the scientific community. Overall, we received high response rates and engagement level from our external stakeholders. In order to gain deeper insights from the dialogue, we gathered stakeholder input through a comprehensive survey followed by in-depth interviews. The dialogue composed of both general questions and tailored questions for respective stakeholder groups. All stakeholders were asked to identify current and upcoming important topics from two perspectives:
areas where Swedish Match's operations impact the outside world; and
areas where the operations of Swedish Match may be negatively impacted by the outside world, i.e. the topics important for Swedish Match to address from a risk perspective.
Additionally, the Group Management Team provided input on where in the value chain our ability to affect lies. We believe this approach provided a comprehensive picture to identify the most relevant topics.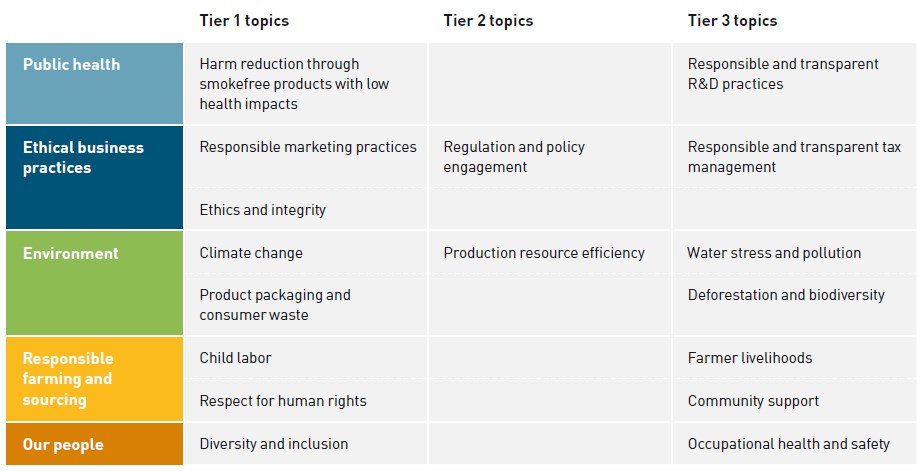 3. Review and validation by the Group Management Team
Based on the consolidated response from the stakeholder dialogue, a validation workshop with the Group Management Team was held to align the different perspectives.
We were pleased to note that our harm reduction concept is well accepted among our key external stakeholders and remains central to our sustainability strategy. Some alterations have been made to reflect the result of the materiality assessment including input from our stakeholders. The changes of focus areas entail the following:
Highlighted focus on responsible marketing practices – now included under the focus area Ensure ethical business practices.
Focus areas Reduce greenhouse gas emissions and Reduce waste have been combined under a new focus area named Reduce environmental impact. In addition to waste reduction from our own operations, an increased focus will also be put on reducing post-consumer waste by improving recyclability of our packaging solutions and promoting anti-littering behavior.
While child labor remains the most important human right issue for the Company to address, the focus area Eliminate child labor has been expanded to also cover other human and workers' rights aspects in the supply chain and named Human rights in our supply chain. This alteration reflects the perspective from our stakeholders and are aligned with the scope orientation under the Sustainable Tobacco Program, which is our main due diligence tool in this area.