Tobacco use
Surveys of tobacco use in Europe show that the situation in Sweden is unique. Swedes currently smoke least in Europe, and they use Swedish snus instead. It is reasonable to believe that snus is used as a way to quit smoking.
Mortality Attributable to Tobacco, WHO 2012

Men per 100,000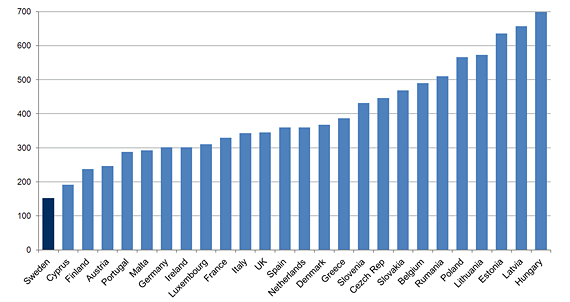 Source: Mortality Attributable to Tobacco, WHO 2012

How much do Swedes smoke compared with other countries?
Compared with other EU countries, the number of people in Sweden who smoke is record low. In 2015, 11 percent of the adult population in Sweden smoked, while smoking in other EU countries varied between 19 and 44 percent (WHO 2008 and national government agencies). The average figure in the EU is 28 percent. While other factors may also contribute to this difference, snus is a unique phenomenon in Sweden, and in the EU.
Does tobacco use vary according to gender?
Yes. Adult men smoke less than adult women in Sweden, which is unique by international comparison. However, the use of snus is much more common among Swedish men than Swedish women. In 2015, 9 percent of the male population smoked every day, compared with 19 percent who used snus. Of the Swedish women who smoked, 11 percent smoked every day while 3 percent used snus (Public Health Agency of Sweden, 2016).
Has snus contributed to the decline in smoking in Sweden in recent decades?
A highly topical question has been whether snus has mainly served as a gateway to smoking or, conversely, as an alternative method to quit smoking. According to the Swedish National Board of Health and Welfare's Public Health Report 2005, the use of snus in Sweden has helped to reduce smoking.
According to the report, for every snus-user who starts to smoke, there are four smokers who replace smoking with snus. In other words, the net effect of snus is that more people quit smoking due to the existence of snus as an alternative. The Swedish National Board of Health and Welfare writes: "These results suggest that the net effect of changed tobacco habits is positive from a public health aspect, because the health risks of smoking are so much higher than those attributed to snus."
The EU's Scientific Committee on Emerging and Newly Identified Health Risks (SCENIHR) reached a similar conclusion in a report published in 2008. According to the report, male smokers who switch to snus are considerably more likely to quit smoking than those who do not use snus. The report also claims that snus can have a positive effect on health when used as a substitute for smoking.
What are the tobacco habits of young people in Sweden?
Among young men, 6.5 percent of those in the 16-29 age group are daily smokers, and only 8 percent in the 30-44 age group. These are record-low figures, compared with about 20-40 percent of Europeans in the 15-24 age group who are daily smokers. Moreover, just over 22 percent of Swedish men in the 16-44 age group use snus every day.
Smoking is more common among women. Just over 10 percent of women in the 16-29 age group and 7 percent of those in the 30-44 age group are daily smokers, compared with 14 percent in the 45-64 age group and 11 percent in the 65-84 age group. Of the youngest women, 5 percent of those aged 16-29 and 4 percent of those aged 30-44 used snus every day. Among older women, 1 percent of those in the 65-84 age group use snus.
Among young women in Europe, smoking habits in the 15-29 age group vary sharply; Romania accounts for the lowest proportion of daily smokers with 10 percent, and Austria for the highest, with 30 percent. The EU average for women in this age group is 20 percent.
REFERENCES
Public Health in Sweden 2016, Public Health Agency of Sweden
National Public Health Survey 2015, Public Health Agency of Sweden
Being young in Europe today, Eurostat 2015
The National Board of Health and Welfare, Health in Sweden: The National Public Health Report 2005
The Health Effects of Smokeless Tobacco Products, SCENIHR 2008