News; May 26, 2009 CET
2009 Solstickan award winner
The 2009 Solstickan award winner is Anders Carlberg from the Fryshuset community center in Stockholm, Sweden.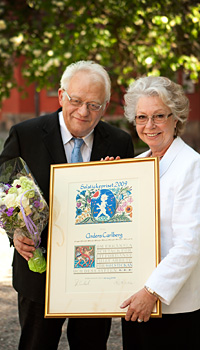 The Solstickan award is presented to a person who has made an extraordinary personal contribution –preferably outside the framework of their everyday profession – within the parameters of the Solstickan statutes. Anders Carlberg, founder of the Fryshuset community center, has been presented with the 2009 Solstickan award, an amount of 100,000 SEK, with the following commendation: "for enthusiastically and fearlessly engaging in efforts to combat the risk of children and youths becoming alienated and focusing on the responsibility that parents and society bear in preventing such alienation. His Fryshuset initiative and his work on issues ranging from the equality of boys and girls in Swedish society to ethics, morals and democracy are admirable. His involvement has also contributed to an increased understanding between children and youth with different ethnic and cultural frames of reference."
Slightly more than MSEK 2.1 to the foundation
For every product sold under the Swedish Match brand Solstickan, a percentage of the sales price goes to the Solstickan Foundation. The foundation's annual meeting reported that the many thousands of öre donations plus dividends, interest and contributions in 2008 generated slightly more than MSEK 2.1.
County committees received SEK 587,925
The annual meeting announced that Solstickan's county committees will share 587,925 SEK in 2009, and the following organizations and associations will be allocated funds:
Södra Missionsförsamling (Southern Missionary Parish)/the Andreakyrkan Church in Stockholm will receive 25,000 SEK to continue and advance the "Break the wall of loneliness" operation.
Hand in Hand 2009, Southern Skåne's District of the Swedish Guide and Scout Association in Lund, will receive 30,000 SEK for the Hand in Hand camp for 15 physically challenged young people.
Maskrosbarn in Stockholm will receive 29,000 SEK for camp operations for 20 teenagers between 14 and 17 years old who live or have lived with a parent who has an addiction and/or psychological disorder.
Bryggan in Stockholm will receive 25,000 SEK for a family camp and activities for families in which one parent is in or has been in prison.
Sagohuset in Lund will receive 25,000 SEK for a dance and theater camp for physically challenged children.
Dövblind Ungdom will receive 35,000 SEK for a summer camp for deaf-blind children and teenagers between the ages of 7-18 at the Åminne recreational center and at the Furuboda recreation and conference center.

Research grants to five scholarship holders

Five research grants of 45,000 SEK have been paid to the following:
Eva-Lotta Funkquist
Impact on healthcare procedures for breastfeeding and growth.
Eva Elmerstig,
Young girls' experiences with the normal/ideal image of sexual situations and pain associated with sexual intercourse.
Susanne Eriksson,
Studies on body composition, bone mineralization and nutrition in healthy eight-year olds in an urban Swedish community.
Kristin Svensson,
Skin to skin contact between mother and child as a treatment method in the event of breastfeeding problems, sub-trial IV of the upcoming dissertation titled: Practices that hinder or facilitate breastfeeding.
Marianne Velandia,
The interaction between parent and child following a planned cesarian section.

For further information:
Per Unckel, Chairman, Solstickan Foundation, +46(0)8/785 50 00
Rolf Zetterström, Astrid Lindgren Children's Hospital, +46(0)8/517 721 49
Per-Anders Rydelius, Astrid Lindgren Children's Hospital, +46(0)8/517 772 05
Maria Clementsson, Solstickan Foundation secretariat, +46(0)8/22 06 20