News; Nov 18, 2008 CET
A cigar-loving lady
The tobacco industry has traditionally been dominated by men. After almost 35 years in the business Cigar Master Modesta Fondeur has gained a reputation as one of the most valued cigar masters in the world. She says it is more than cigars; it's a way of life.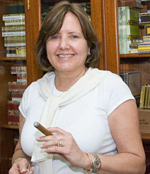 "I was influenced at an early age. As long as I can remember, both of my grandfathers smoked cigars. I enjoyed the smell as a child and was later able to smoke them myself. Today, few people react, but 20 years ago, a woman smoking a cigar attracted attention. Today that may seem a little old-fashioned, but that's the way it was then," says Modesta with a laugh.
"Today, smoking is part of my job. I need to keep control over production. It is my responsibility to ensure that the cigars that we produce are of high and uniform quality. Test-smoking our cigars is an important part of my work. If the quality and the tobacco blend meet my quality requirements and thus those of our customers, then everything is as it should be."
Why General Cigar?
"When I finished my degree in economics in 1975, my advisor at the university, who was then also a jurist at General Cigar, asked me to bring my CV to the office at the plant. My employment coincided with General Cigar's establishment of its operations in the Dominican Republic, and I began working the very same day operations started in earnest. Initially, my work involved routine office duties, but I was soon given responsibility for managing inventory, invoicing, payroll and everything else that goes on in an office."
Modesta takes a puff from her newly lit cigar and continues:
"At that time, the company had only a couple of hundred employees. Over time, it grew and my focus shifted from administrative work to more practical tasks. In 1978, we began to manufacture cigars here. Because I was alone in administration, I was simply forced to learn everything about what was happening in the tobacco fields. I found that more stimulating and more physical. That was how I began to learn more about cigar manufacturing.
A great challenge
"In 1997, I became the head manager for the cigar plant. A few years later, we bought the plant in Honduras, and I quickly learned about their culture, other types of tobacco and cigar manufacturing. Quite simply, I liked the challenge of the job."
Today, there are nearly 6,000 employees in the various stages of cigar production in Honduras and the Dominican Republic, which includes everything from cultivation to finished cigars in boxes.
"Personally, I have always respected the craftsmanship underlying cigar manufacturing. It is so much more than just cigars. It's a way of life."
The tobacco industry is by tradition dominated by males, and Modesta had all eyes on her from the beginning.
"Naturally everyone was watching me. They were curious to know whether I would be able to do the job or not. I have never felt a lack of acceptance from my male colleagues. If you are motivated and do a good job, you will get help and respect. I really appreciate my work and find it stimulating. There is always so much happening. Weather and winds are constantly changing. Sometimes it rains a lot and sometimes only a little. I then have to take new decisions and make adjustments in production."
So tobacco is one part of the job. The other is all the people.
"This job really is about tobacco and people, which makes it intensive and exciting. If you have tobacco but no people who can work with the tobacco, there will be no cigars. It's that simple."
Social responsibility
When asked about conditions for workers in the cigar manufacturing plants, Modesta's eyes light up.
"Here in the Dominican Republic and also in Honduras, it should never be taken for granted that people can read and write. Women are often overlooked because they run the household and do not need to be able to read. We want to change that. We have started a program that provides opportunity for our workers to receive financial support to learn reading, writing and arithmetic. That strengthens their self-confidence and the will to improve their standard of living. When our computers become too old, we donate them to the schools. It's important to remember that it is not only the workers here at the plant who depend on General Cigar, but also the family members who do not work here."
Modesta is involved in nearly everything, although her primary task is to ensure that the cigars that are produced are of high and uniform quality. She is also a member of the test panel that evaluates the tobacco blends that are used. Since a large amount of cedar wood is used for cigar boxes, a replanting program for both cedar and mahogany trees has been started.
"We try to learn from others' mistakes. We do not want our land to become depleted and erode as in our neighboring country Haiti."
Today, after slightly more than 30 years in the company, Modesta Fondeur is vice president and, together with Daniel Núñez and Ernesto Perez- Carrillo, she is one of the few people in the world with unique, cutting-edge expertise in cigar manufacturing.
By: Jerr y Lindahl