News; Aug 9, 2009 10:00 PM CET
Aficionados of tobacco
Meet some of our tobacconists round the globe. They all share a passion for high quality products and the best customer service.
A timeless experience in New York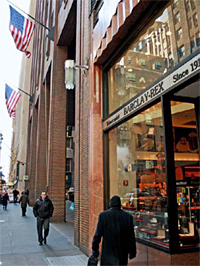 The clientele that Barclay-Rex shops in Manhattan central New York caters to vary in age, but the thirty-plus crowd seems to have caught up to their older, more experienced counterparts. The key ingredient to staying on top for almost a century has been the commitment to the client by offering that added touch of finesse and knowledge. Not everyone is shopping for price, service is as important as the quality of the product, Frank Agunzo, Manager at the Lexington Avenue shop says. Another success factor is not to follow the trends.
"By marketing and selling those products we believe in we build up trust towards our customers. A lot of money and effort can be put down in a product that in the end doesn't live up to the customer's expectations. It's a lot more to the shopping experience than just the product itself ", says Frank Agunzo.
Swedish snus performs well, even better than the American style snus. Swedish snus is a modern and sophisticated tobacco product. At the moment the La Gloria Cubana cigar serie sells well. It is because it has a medium to full-bodied flavor and for its value prize.
"I wouldn't mind cheaper and even better cigars, but I guess that won't happen. What we do appreciate though is the Swedish Match sales force. They listen to us and understand our needs. And always with a smile."
Enjoy the tastings in Stockholm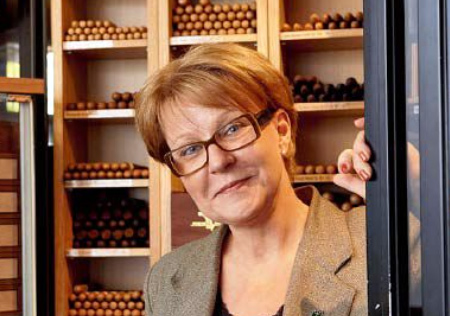 Since the 1940s, cigar and pipe aficionados have had a little slice of paradise in the tobacco store now called the Cigar room (Cigarrummet), situated in the heart of Stockholm City, Sweden. The store has traditions stretching back to the 1880s, when it also included a reading room. Moreover, it used to sell artwork as well as tobacco. Since 2005, tobacco expert Merja Jusélius has been continuing the tradition and the specialist store offers a large selection of tobacco products and accessories for both everyday consumption and special occasions.
Meeting the customer is the most important aspect for Jusélius. She gives her customers a complete experience, spending time with, and providing the advice needed to make the right cigar purchases.
"The customers who visit the shop realize that you can't hurry," Jusélius says. "We have a pleasant and relaxed atmosphere, sometimes crowded, where the customers chat while waiting for their turn."
New launches are the easiest to sell. Jusélius says her customers are curious and often want to try something new. But they also want the expensive, special products, which are in limited supply.
"Stradivarius is a cigar that is much in demand among my customers, Macanudo is also a popular premium cigar. I'd like to bring in more products if there was room on the shelves. Everything I have sells well, and now that spring is here and the cigar season is starting, I sell a lot more of the big cigars that take longer time to smoke," she says.
Jusélius describes her customers' needs and desires as special and exclusive. It is therefore especially important to have a good dialogue with your suppliers who can understand your customer requirements.
"It's extremely important that you and your supplier talk the same language," Jusélius says. "But strangely, this isn't always obvious. Many salespeople just want to sell their selection without trying to understand my needs for this store. Conny Andersson (tobacco expert at Swedish Match), is professional and possess the sensitivity to know exactly which products will suit my customers."
Cigarrummet is far more than an average tobacco shop. During the summer, its outdoor area is available for cigar smoking, where one can enjoy tobacco products while taking in the pulse of Stockholm city center. In the lounge on the upper floor, it stages themed evenings and various tasting sessions connected to cigars, such as chocolate, wine and whisky.
Upscale Emerson's in Virginia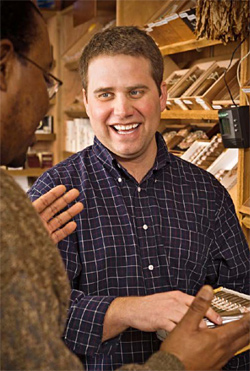 If you visit Southeastern Virginia in the US, also known as the Hampton Roads region, you will notice that this birthplace of colonial America is steeped in history and rich in culture. Your Hampton Roads experience would be incomplete without a visit to Emerson's Cigars, a tobacconist who has been a part of the area for more than 30 years.
Customers who stop by Emerson's in the region will receive the full range of experiences one comes to expect when visiting upscale tobacco stores. Owner Scott Regalia says, "People come to us because they like cigars and want to learn more about them. We tell them everything about the product from growing the plant to manufacturing and to the humidor. Our goal is to provide a fun and relaxed shopping experience that exceeds the customer's expectations and makes them want to come back for more." Regalia adds, "Customers are interested in trendy products; they always want something new." In fact, one of the best things about working with Swedish Match is how they bring new products to market. "No one can launch a new product quite like they do. They offer well organized programs that work quite well for us."
Customers are also curious about one of the newer tobacco products carried by Emerson's Cigars, General snus. General snus is currently available through select cigar tobacconists in key major markets, including the Hampton Roads region. "Swedish snus is cool. People in our area travel quit a bit so many are familiar with the product. You can imagine how surprised they are to see snus when they come into our stores. It is definitely a product that belongs in an upscale tobacco shop," Regalia says.
Regalia suggests that stores in the US will need to push snus to be successful. He says not everyone is familiar with it so it won't sell itself. "Let them know about the product, the basic attributes of snus along with its history, and how the product is used in Sweden. Customers who come to Emerson's cigars have an opportunity to sample the product, so it does well. Which leads me to believe there is great opportunity for Swedish snus in the US."
Trendy tobacconist in Madrid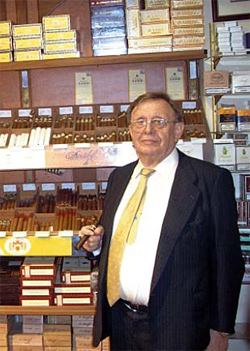 The tobacconist Magallanes is located in the heart of Madrid, Spain. Founded in 1940, it is now regarded as one of the most prestigious tobacconists. Thanks to its wide range of brands and quality of its products, and according to the shop owner Jose Martinez Franco, also due to the helpful manner in which customers always are treated.
"We sell all kinds of products, but if I have to name some, I would highlight Borkum Riff within pipe tobacco. Regarding cigars, Macanudo is obvious. El Crédito and La Paz perform well too. I have been positively surprised by the new Don Tomás cigars. It is created from a new tobacco mixture done by Daniel Núñez, cigar expert at Swedish Match in the Dominican Republic.
The market trend at the moment is to offer the consumer possibility to choose, in combination with more information regarding their choice. "I am looking forward to offering my customers different types of tobacco to create their own mixtures, or even their own flavors and aromas. This is one of the reasons why I think that pipe tobacco products might increase in Spain," Franco says.
"With Swedish Match sales force I have a good and constructive dialogue with the common purpose of constantly improving our service to consumers. It seems to me that the creation of Borkum Riff cards, which explain the technical and flavor aspects, has been a useful benefit as it facilitates the understanding of how aroma, sweetness and strength are classified.
Swedish Match has been a pioneer in providing us with knowledge to improve the understanding of pipe tobacco. If I had to say something my customers wish for, it would be a bigger choice of flavors within pipe tobacco. If they could choose different tobacco types to create their own mixtures depending on the moment and their mood, it would be a success. What we are missing today is the possibility to create a personalized smoking experience."