News; Mar 7, 2007 CET
Best-seller and classic
LA PAZ IS SWEDISH MATCH´S largest cigar brand in Europe, measured in sales volume. This success is attributable to the strong brand.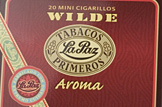 A brand is the most important asset of any company selling consumer goods, and facilitates the knowledge and recognition of the product.
"A brand should always clearly reflect what it stands for through delivering products that meet its recognized standards. The La Paz brand has done this consistently over the years and that is one of the main drivers behind its success in such countries as France, the Netherlands and Spain," says Marcel Verhoeven, International Brand Director Cigars, Swedish Match International Division.
La Paz stands for authentic and flavorful cigars with distinctive taste and aroma. It is best known for its Wilde range, with the uncut end revealing the exciting composition of 100 percent tobacco leaves. However, in addition to uncovering the wild character, the unique shape also facilitates the full and rich aroma to bloom from the very beginning.
The foundation of a Wilde La Paz is an aromatic Besoeki (Java) or a somewhat sweeter Mata Fina (Brazil) wrapper of superior quality. The wrapper is sometimes bound anti-clockwise with the vein of the leaf on the outside, which also adds to the whimsical appearance of the La Paz cigar. The binder leaf is almost always made from Besoeki tobacco. The blend in each Wilde varies of course, but consists predominantly of a sophisticated mixture of Besoeki, Mata Fina and Remedios tobaccos. The brand presents no less than thirteen different products, in varying sizes and characters - from the small Mini Wilde to the top-seller Wilde Cigarillos and the new Miniaturas and from the classic Indonesian taste to exotic vanilla.
"A Wilde Cigar spreads its aroma as you light it up, even before taking the first puff. It builds up the taste gradually as the filler, binder and finally the wrapper burns. Hence it is in fact the most authentic cigar there is. It reveals how all cigars were at the time when the Mayas called them Sik´ar, " says Marcel Verhoeven.