News; Sep 22, 2008 CET
Borkum Riff – a historical trip over 40 years
In autumn 1968, Borkum Riff set sail for foreign countries and commenced the journey around the world that characterized the brand for 40 years.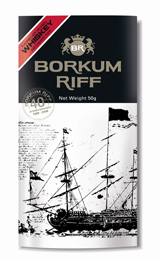 To celebrate and highlight the brand's international career, Borkum Riff Bourbon Whiskey will be changing its original packaging, used since 1968, for one year.
Annika Enquist Andersson, Product Manager, North Europe Division says: "Today, 40 years after its introduction in the US, Borkum Riff is one of the world's largest and most widely spread pipe tobacco brands. Borkum Riff Bourbon Whiskey has gone from one revolutionary success to another around the world and is still after 40 years the main product in Borkum Riff portfolio. The ship is the most important design element for our pipe tobacco consumers."
Start in Sweden
Borkum Riff was launched as early as 1962 in Sweden, but with an entirely different tobacco blend. The product was adapted to Swedish tastes for quite a strong tobacco flavor. However, the Swedish mixture was not suitable for other countries. Swedish tobacco expert, Bertil Sandegård, was assigned the task of producing a new pipe tobacco. The result was an aromatic and sweet mixture, flavored with real whiskey.
Success in the US
The aromatic and sweet pipe-tobacco mixture with a flavor of Bourbon Whiskey was used for the first time in the US on September 10 and was a sensation among North Americans. The reception in the US was exceptional. A seductive Swedish blond was used to launch the product under the theme "the other Swedish pastime." However, the product quickly became successful and was being called a hit after only four weeks of sales.
New flavors and markets
Bourbon Whiskey reigned as the sole leading product for three years, following which the portfolio was expanded with several flavor varieties and the brand was introduced in new markets. Borkum Riff became a global brand. What lies behind the success of Borkum Riffs, despite a declining global market? The answer is uniform, high quality as well as new and innovative products. Pipe smokers are continuously on the hunt for exciting new flavors and Borkum Riff works ceaselessly to satisfy their curiosity.