News; Jun 7, 2010 10:11 AM CET
Catch Collection Glow brightens up summer
Catch Collection is the snus that is presented in different new flavors several times a year. The second variety for 2010 and the sixth in total is called Glow. It combines two summer classics in the form of elderberry in combination with lime and provides a preview of the summer's refreshing flavor experiences.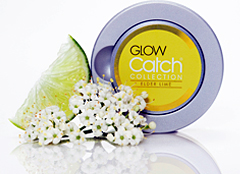 In February, Swedish Match introduced Catch Collection Mellow with a rhubarb flavor. It is now being replaced by Glow, which contains elderberry and lime. Each edition lasts for only a limited time, and the ambition is that Catch Collection will continuously offer new flavors and a chance for variation.
"Catch Collection is at the forefront with respect to flavored snus, and Glow is the latest in a series of pioneering products," says Mediha Budak, Catch product manager.
Glow has a mild tobacco character with clear elements of elderberry and lime. It has been available in stores since mid-May and will last until the week beginning August 16, when it will be replaced by Ease, with a ginger and orange flavor. The portion pouches are available in mini portions. A can contains 20 pouches and costs about 30 SEK.