News; Nov 9, 2007 11:00 PM CET
Cricket - in a class of its own
Every day, Cricket lighters are used by approximately 200 million people in more than 100 different countries. Cricket is one of Swedish Match's most widely-spread brands characterized by quality, safety and design.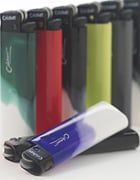 Cricket has a history dating back to the 1960s in France. When launched in 1961, it was the world's first disposable lighter. Today, Cricket is still a lighter at the forefront of product development and is the world's third-largest disposable lighter brand.
Cricket's principal competitive advantages are quality, safety and design. At Swedish Match International Division, Bart van Geenen has been responsible for the Cricket brand for the past five years, and knows what is required to defend the top position in the premium segment of the disposable lighter market.
"Since consumers who purchase lighters are not particularly loyal to any brand and frequently make impulsive purchases, continuous product development and innovation are mandatory. We can never relax, and must continuously produce new ideas to get consumers to choose Cricket," says van Geenen.
Because consumers of lighters make their purchases on impulse, it is also important that the products are clearly displayed and accessible at retailers. Through attractive and volume-efficient multi-tiered stands, Cricket often occupies a premium position at the counter, for example at the tobacconist.
Safety and quality
Cricket's continuous product development has resulted in it becoming one of the world´s safest disposable lighters today. The product has several safety functions:
A patented valve construction that prevents dust and dirt from obstructing fuel supply.
"Fixed flame technology," a proprietary patented system, which signifies that the flame is fixed and cannot be regulated. This makes the lighter safer since users are spared unpleasant surprises in the form of high flames.
For a long time, Cricket was the only disposable lighter in the world that was manufactured in self-extinguishing nylon, which stops burning once the ignition source is removed.
Cricket was the first in the world to introduce child-resistant lighters in 1993.
Furthermore, both Cricket lighters and the production process are quality certified by ISO. For example, the lighters undergo more than 100 tests before they are released to the market.
Innovative design
Cricket is available in different varieties and sizes: Original, Mini, Maxi, Electronic, Pocket and Pico. Cricket is one of few disposable lighters in the world to be manufactured in nylon, which makes it possible to manufacture a thinner casing. This results in the lighter weighing very little and holding more gas.
Most lighters are still sold in single colors. Swedish Match estimates that approximately 80 percent of the Group's sales comprise singlecolored lighters and approximately 20 percent are designed lighters. Yet, innovative design is an increasingly important tool in reaching consumers. Cricket regularly launches new design series, designs that also focus on different target groups.
Design is also very important to Bart van Geenen. He was closely involved in the production of one of Cricket's most successful design concepts, Fusion.
"Fusion is based on a technique in which two colors are mixed in the nylon casing, resulting in each lighter having a unique appearance. Cricket Fusion has rapidly become popular. In the past, consumers in our largest market, Russia, wanted only single-colored lighters, but today Fusion already accounts for approximately 7 percent of sales in Russia," says van Geenen.
Sponsors the Le Mans 24 Hour Race
Cricket sponsors certain events that are compatible with the brand. One example is the Le Mans 24 Hour Race, probably the world's best-known car race from an endurance point of view.
"It is an event that is very compatible with Cricket," he explains. "Le Mans represents such qualities as an international lifestyle, advanced technology and endurance. These are the same elements that characterize the Cricket brand, and cooperation with Le Mans has resulted in the manufacture of a limited edition of Cricket lighters with motifs from Le Mans."
Cricket Firepower
A relatively new product within the Cricket family is Cricket Firepower, a utility lighter that was launched in 2003. This year, it was supplemented by an elegant holder, which comes with the Firepower. The purpose is to create consumer loyalty and brand recognition. Cricket Firepower is sold primarily in superstores and home products stores. Expanding the Cricket brand to include another lighter product was a successful move.
"Sales volumes for Cricket Firepower are increasing in North and West European markets and we sold approximately one million utility lighters during the first five months of this year. This is a very satisfactory result, and we have expanded the distribution to Eastern Europe. Cricket Firepower will also gradually be launched in the US and Canada, where we believe the product has major potential," states van Geenen.