News; Nov 18, 2008 11:00 PM CET
Dedication improves environmental health
With dedication and enthusiasm all employees at the North American facilities work for the development of environmental well-being. There is a long tradition of working with these issues as an integral part of daily business.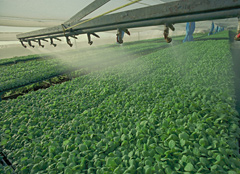 "The importance of environmental issues is increasing in pace with more stringent requirements and increased awareness on the part of consumers, customers, suppliers and authorities," says John Danhauer, Manager Utilities & Machine Shop at the Owensboro plant and Environmental Coordinator for the Swedish Match North America Division.
"That's why we continuously have to develop processes to increase resource efficiency and further develop systems for cleaning and reducing emission."
"At the same time as we develop our processes it is as much about everyone taking small steps in everyday business. The search for items with negative environmental impact originates at each business unit. It could include using low energy light bulbs in the factories to save trees by not printing documents unless necessary."
The production processes and raw materials being used in the factories generally have limited impact on the environment and approximately 80 percent of Swedish Match's raw materials are renewable and production handles environmentally harmful substances to only a limited extent.
"We have made great efforts in all environmental areas including reduction of energy, waste reduction, reductions in water use and reduction of discharges to air, land and water. The manufacturing facilities in the North American Division have implemented approximately 40 environmental projects in the past year."
Examples include reforestation on unused land at the tobacco farm in the Dominican Republic, noise reduction initiatives at the factory in the Dominican Republic, several water and waste reduction projects at the two factories in Honduras, fuel reduction projects in the Dothan Alabama factory and reductions in the use of chemicals and chemical waste reductions in the Owensboro Kentucky factory, just to mention a few.
"Effective the end of November with the registration of the factories in Honduras, all manufacturing facilities in the North America Division will be ISO 14001 registered. This would not be possible without the dedication, interest and enthusiasm shown by everyone who works at these facilities for the environmental health and well-being of our planet," says John Danhauer.

Written by: Karoline Hammar