News; Aug 16, 2007 CET
Developing managers of the future
For Swedish Match, management supply and management training are prioritized issues. In a globalized world characterized by rapid change and fierce competition, it is important to always have access to qualified managers and that managerial talents in the Company can develop and grow with new assignments.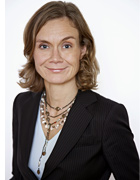 "At Swedish Match, the matter of succession management has the attention of the senior management and the Board of Directors," says Nina Hanses, Vice President Management Resources and head of succession management and leadership development for the Group. She also believes that the issue will become increasingly significant.
"Global competition is fierce, with continuously new consumer trends that demand many and rapid changes. This means that we must have qualified employees in all functions. The need is strengthened by the fact that a large number of our employees, who were born in the 1940s, are beginning to leave the labor market. Furthermore, fewer employees want to be managers today."
As a company, Swedish Match is characterized by flexible structures and few levels. It is a moderately small organization, in which it is quite easy to gain an overview of the available human resources. Despite this, a structured management planning process is required on different levels.
The process is structured so that management teams at division level annually conduct a review of their organizational needs and identify key positions and talents. The work is coordinated by the divisions' HR Managers. The performance and potential of managers are analyzed, succession plans are prepared and development requirements reviewed.
The next step is a Group level presentation for CEO Sven Hindrikes, the division managers, Mats Adamson, Group Senior Vice President, Group Human Resources, and Nina Hanses. After the meeting, a summary is compiled, which is then reported to the Board of Directors.
"This enables us to gain an overall profile of the requirements and of the potential available in the Group's management, their managerial abilities, possible alternative careers and successors. It is up to us to demonstrate to the Board that we have a functioning cadre of qualified replacements," says Nina Hanses.
She emphasizes that it is important for the process to be pragmatic, simple and realistic.
"The process may not become too bureaucratic. It is important to also have a parallel, informal process, where managers and employees are able to use their initiative. There are numerous opportunities in a company such as Swedish Match. There is always something to be done for everyone, which is due to the fact that we do not have such rigid structures."
The management supply process will continue by ensuring that promising employees receive interesting assignments and that the quality of each individual is preserved. Managers also need to develop their managerial skills.
"We have had global management development programs, which were initiated in the 1990s, a period characterized by several acquisitions. The main objective of the programs was to create a uniform corporate culture," says Nina Hanses.
"Today, we face new challenges, with a focus on organic growth. We also live in a more complex world, which could be reflected in a new management development program." Does the work on management supply and management development have any effect on the advancement possibilities for women? "Yes, indirectly," says Nina Hanses.
"Swedish Match has been a maledominated Company, but changes are now occurring on different management levels. We have highly qualified people in this organization, both men and women."