News; Feb 2, 2009 1:55 PM CET
General Ekstra Sterk – now as loose snus
A new member of the popular General family is now being launched; a loose snus for those who want a strong tobacco flavor and more nicotine.
"The portion-packed varieties, General Sterk and Ektra Sterk, which were both introduced last year, have become very popular products. General Ekstra Sterk Loose will add another member to the successful brand family," says Niklas Krohn, Marketing Manager for the General portfolio.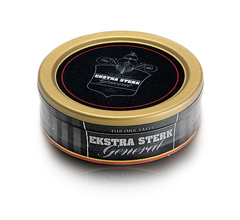 General is the preferred snus for Norwegian men, with a total market share of about 63 percent.
General Ekstra Sterk Loose is based on the same recipe as the portion-packed snus, General Ekstra Sterk, and has the classic and very popular General flavor; a distinct tobacco taste with hints of citrus and pepper.
Cigarette smokers comprise the principal target group for snus. User surveys show that many smokers want a stronger snus in order to view it as an option. The increase in sales of previously launched products with high nicotine content also clearly indicates considerable demand for this type of product in the Norwegian market. These are the reasons for adding General Ekstra Sterk Loose to the range. The tobacco mixture is stronger in terms of nicotine, with a strength of 13 mg/g.
"We know that many consumers use and appreciate our portion-packed snus varieties, General Sterk and Ekstra Sterk, but they also want to combine this with a loose snus with the same aroma," says Niklas Krohn.
General Ekstra Sterk Loose is available in stores in Norway from today.
Approximately 309,000 Norwegian men (aged 15 years and older) use snus on a daily basis or occasionally. This also includes those who only use snus a few times a year. Approximately 172,000 use snus on a daily basis. In 2007, domestic sales of snus increased to about 24.7 million cans, up approximately 29 percent compared with the preceding year.
(Source: Intrac/Markedsfakta)