News; Mar 5, 2008 CET
General a hit in the US
Consumers and merchants in the US are positive toward Swedish snus, according to the evaluation of the test sales.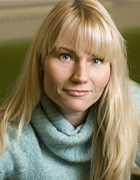 Swedish Match began test sales of Swedish snus in the US in early 2007 and, since then, just over 100 stores in 13 states have been selling Swedish snus, primarily the brand General.
"Sales results and reactions from consumers and merchants have exceeded our expectations," says Camilla Kuylenstierna, Strategic Brand Manager at Swedish Match North Europe and acting Senior Project Leader for Swedish snus at the North America Division.
Swedish snus is a new product category for US consumers. The test launch was performed on a small scale and considerable work remains to be done before the product category can be established long term. For that reason, the Division does not want to make excessive conclusions based on the results, despite positive signs. One of the principal factors for success is creating demand through, for example, interaction with consumers and merchants.
"We have chosen to conduct the test sales via our network of stores that carry premium cigars. The cigar merchants are excellent and knowledgeable ambassadors for Swedish snus, and cigar stores also correspond well with the brand's position as a sophisticated premium product. From the consumer survey, we can see that the consumers perceive Swedish snus from Swedish Match as a sophisticated, elegant and credible quality product."
Several major international tobacco companies, including Philip Morris and R.J. Reynolds, launched Swedish style snus in 2007. Compared with these companies, Swedish Match is a relatively small player in the US. However, Camilla Kuylenstierna believes it is an advantage that competitors are helping to drive the market for Swedish snus.
"Due to the positive results of the survey and the substantial interest in Swedish snus, we are planning a gradual expansion during 2008. It will be conducted in close cooperation with our consumers and merchants."