News; Nov 4, 2008 11:44 AM CET
Grovsnus Black – new snus with robust taste
Starting this week, Sweden's tobacconists will be offered a masculine, rich-tasting and full-bodied alternative – Grovsnus Black. As the name implies, the portions are black.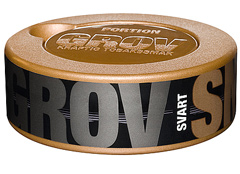 Although the portion paper is black, production takes place using Swedish Match's patented White Portion technology, meaning that each portion lasts longer and is less runny than traditional portion snus. Each portion contains 12 milligrams of nicotine, which means that the nicotine content is somewhat stronger than in other products produced with this technology.
"The taste is strong and full-bodied. Like other brand varieties, Grovsnus is characterized by a pure tobacco taste but it also has elements of vanilla and aniseed," says Mikael Arnebert, Director Media Relations & PR North Europe at Swedish Match.
Grovsnus, which is now available in four varieties, had a total market share of 12.5 percent in Sweden in 2007, when some 22.3 million cans of Grovsnus were sold at a value of about SEK 700 million at the consumer level.
According to Swedish Match's consumer surveys, most of the users who choose Grovsnus are men between the ages of 20 and 40 who are interested in sports and handcrafts and are very active in their leisure time.
"Grovsnus Black is aimed at existing snus users who want a rich-tasting and masculine snus alternative in a modern version," says Mikael Arnebert. "As always, however, we also appeal to smokers who want to quit with the help of snus, which dramatically reduces health risks. From a health standpoint, the use of snus should more appropriately be compared with drinking coffee than with smoking."
The brand is well established to say the least. Grovsnus has been sold in the Swedish market since the mid-1800s!
"Grovsnus has a long tradition with loyal customers and an extremely strong brand. I'm convinced that Grovsnus Black will soon take its place in snus coolers all over the country," says Mikael Arnebert.
Grovsnus Black will be available in stores from the first week of November. Although pricing is unrestricted, the probable consumer price will be about SEK 35 per can.