News; Nov 27, 2008 8:20 AM CET
Kardus – new vintage snus for aficionados
Kardus Superior Blend is a vintage snus for the connoisseur. The ingredients in the 2008 edition include cut, air-dried tobacco from Hungary and sun-dried Kurnool tobacco from India, with the flavor enhanced by a highland single malt whisky.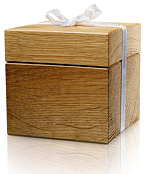 "During our testing sessions, it was very often mentioned that the tobacco mixture had a flavor tone similar to a very high quality single malt whisky. We decided to make this flavor stronger," says tobacco master Tommy Willskytt.
"This is the most exclusive snus in the world, completely unchallenged. Kardus offers a taste sensation of the spicy Tropics combined with barren, windswept Scottish moors. Flavors that merge, grow and take you on a journey of taste exploration.
Kardus is supplied in a hand-made, polished oak box. Cabinet-maker Ulf Mellström, who trained at the Carl Malmsten Center for Wood Technology and Design, designed the packaging.
"Kardus combines first-class craftsmanship in terms of flavor, design and material," says Mikael Arnebert, Director Media Relations & PR, North Europe.
The tobacco has been stored for four years to allow the subtle armor to develop. Unlike traditional loose snus, which is ground, the tobacco is cut. Cutting helps enhance the aromas and the snus retains its shape better under the lip.
The Kardus manufacturing process takes place in eight stages: cultivation, curing, gradation, refinement, selection, cutting, preparation and storing.
"Each stage is performed by hand, using knowledge and skill that is often passed down through the generations. No machinery in the world can replace the skilled hand or sensitive nose," says Mikael Arnebert.
"This is a snus for special occasions. A snus that should be enjoyed in peace and quiet, perhaps after a splendid meal."
Kardus will be sold by six carefully selected tobacco specialists in Stockholm, Gothenburg, Malmö and Uppsala.
The package contains 100 grams of snus. The tobacco specialists themselves set the price of the snus, but the recommended retail price is approximately SEK 450. Kardus is produced in a limited edition.
Historically, the word Kardus (from the French "cartouche," in German "karduse") has been used in Sweden to mean "pack snus in kardus," meaning to package the snus wrapped in cardboard.