News; Oct 14, 2010 1:00 PM CET
Light fires quickly and effectively with new Solstickan fire briquettes
Fire briquettes are a completely new product from Solstickan that have arrived just in time for winter.
"Briquettes have been here for a while but our product is made from compressed chips. That gives a long burning time with no odor," says Rolf Byberg, Sales Director, Swedish Match Industries AB.
Lighting a fire in an open fireplace, stove or barbecue is not as easy as it sounds. But with Solstickan's Fire Briquettes the job will be easier – and safer. Instead of newspapers, cardboard or anything else that burns, two or three briquettes are placed next to the coal or logs.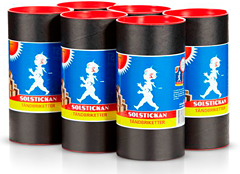 The tube with Solstickan's fire briquettes is complete,
with 100 fire briquettes and a matchbox containing
the same number of matches. The product will be
available in stores in November. "You light the briquettes with a match - we include a box of matches with every pack of briquettes - and then they start the fire," explains Rolf Byberg.
Fire briquettes have been on the market for a few years but this is the first time that Swedish Match has marketed a product under the Solstickan brand.
"We have developed our own briquette, with the specific requirement that it does not smell or taint. The contents are 60 percent paraffin and 40 percent FSC* board, which gives a long and even burning time of around eight to ten minutes."
The new product from Solstickan will be sold in major supermarkets, building supply stores and gas stations.
For each product sold under the Solstickan brand, a percentage of the sales price will go to the Solstickan Foundation.
The Solstickan Foundation was established in 1936. Its activities originally focused on sponsoring holiday camps for poor children so that they could experience sun, sea and fresh air. Today, the Foundation concentrates on helping the elderly, as well as children with disabilities. Over the years, it has donated more than 100 MSEK.
Swedish artist Einar Nerman was commissioned to design the label for the Solstickan matchbox and he created the Solstickan Boy, one of the best-known brands in Sweden.
*Forestry Stewardship Council
For more information, please contact:
Rolf Byberg, Sales Director, Swedish Match Industries AB
Tel: +46 (0)502-16512