News; Sep 10, 2015 8:00 AM CET
Mustang – A robust snus from Swedish Match
Swedish Match's new venture in the low-price segment is named Mustang.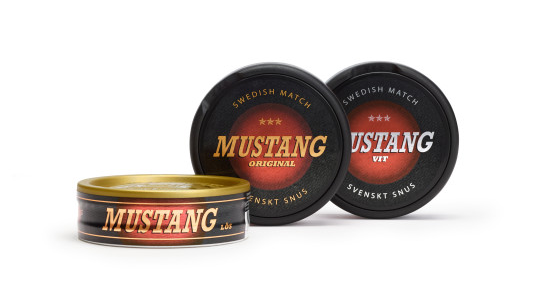 Mustang is a new brand offering a robust snus with well-filled pouches at an attractive price. Mustang will be available in three varieties from its launch in September: white portion, original portion and loose snus.

"With Mustang snus, we are offering good portion sizes and a robust yet uncomplicated tobacco flavor. Quite simply, it's a snus you can rely on. Generally speaking, Mustang is a product for consumers looking for an attractively priced snus that does not compromise on the quality of either the product ingredients or the experience offered by the snus," says Mattias Adebäck, Mustang Brand Manager.

The guarantor for the qualitative content in Mustang is GOTHIATEK®, Swedish Match's quality standard that sets rigorous demands on the quality of the ingredients, manufacturing process and maximum permitted levels of unwanted substances. Swedish Match developed a new manufacturing process so that Mustang would meet consumer demand for the experience provided by the products.

"During the Mustang development process, we set stringent demands that the product had to meet a range of criteria before being launched. Teamwork has now made it possible for us to proudly launch Mustang," says Mattias Adebäck.

Product description
Three Mustang products will be launched in September 2015: An original portion, a white portion and a loose snus.
Mustang Original will be sold nationwide in Sweden from mid-September.