News; Aug 15, 2007 10:00 PM CET
New Piccanell – a modern Swedish chewing tobacco with long traditions
During this spring, one of Swedish Match's most classic brands underwent a proper makeover. Piccanell, a Swedish smokeless chewing tobacco with origins from the 17th century, was renewed with a new design, new packaging and two new flavors.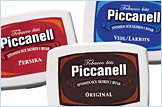 "The new Piccanell has two important objectives. First and foremost, we want to ensure that our old and loyal consumers are satisfied, which we achieve by retaining the traditional and popular flavor of the original. The second is to attract new consumers and this is where the new packaging and new flavors will play an important role," says Mediha Budak, Brand Manager, Swedish Match North Europe Division.
The new package is a small, practical plastic box, which is easy to carry in a pocket. It contains approximately 35-40 portions and is available in three different flavors, with a distinct color coding on the lid. The new Piccanell original, with a mild, smooth, tobacco flavor and elements of dried fruits, was launched early in the spring. Two new flavors, Violet/Licorice and Peach, or Piccanell Tropical as it is known in Norway, were launched more recently.
Potential worth preserving
Mediha Budak states that there are actually several reasons for the major change in Piccanell:
"At the beginning of the year, a new law was passed recommending the sealing of packaging. At the same time, we saw clear signs of increased interest in flavors, which we recognized from the snus and cigar markets. No changes have been made in Piccanell for a considerable time, and with its traditions, the brand has potential that is worth preserving."
Piccanell originates from the 17th century and was originally the name of the product type itself, regardless of who the manufacturer was. The earliest information on the brand is from 1766. The entire production is still hand-made and every day approximately one kilometer of Piccanell is manufactured by the skilled tobacco spinners in the small manufacturing plant in Arvika, a town in western Sweden.
Spun and cut portion-packed tobacco
Unlike the American chewing tobacco, which often consists of loose leaves and is used in larger portions, Piccanell consists of small pieces of spun and cut portion-packed tobacco. The tobacco used in the manufacture is high quality Pennsylvania tobacco. The leaves are very thin and can also be used as cigar wrappers.
Just like Swedish snus, Piccanell is placed under the upper lip. The difference is that it must be periodically bitten into to renew the flavor. However, spitting is not necessary, in contrast to traditional American chewing tobacco. Piccanell is also discrete enough to be barely visible when in use.