News; Aug 16, 2010 10:00 AM CET
New design for Ljunglöfs Ettan
Ettan snus, one of Sweden's oldest brands, traces its roots to the early 1800s. The Ettan products will now be sold under a new design, although the contents of the cans remain unchanged and retain the same high quality that has always characterized the brand.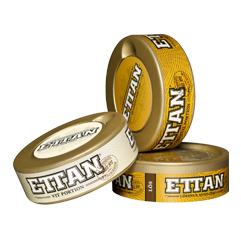 Ljunglöfs Ettan, which is Sweden's best selling snus of all times, has an impressive history. In 1822, snus manufacturer Jacob Fredrik Ljunglöf was struck by an idea that would revolutionize snus manufacturing. Together with chemist Jacob Berzelius, he succeeded in cutting the preparation time from six months to one week. Ettan was born and the result was a snus with no unnecessary flavor additives, and a pure tobacco character that is still the archetype of Swedish snus. The brand will now be modernized in the form of a new design.
"For many, Ettan is synonymous with Swedish snus and Swedish snus tradition, features that we have focused on preserving and highlighting. At the same time, the design was in need of modernization," says Markus Eileryd, Brand Manager Ettan.
Ettan loose and Ettan original will retain their characteristic color. However, Ettan white portion will now be available in a white shade, signaling more clearly that it is white portion snus. Ettan white portion will also be packed in a star-shaped pattern.
Högupplösta produktbilder finns att hämta här: