News; Mar 7, 2007 CET
New proud additions to Partagas family
MORE THAN 300 MILLION premium cigars are imported into the US each year. One of the most popular brands is Partagas. Recently, two new family members were introduced, Partagas Spanish Rosado and Partagas Cifuentes Blend, appreciated cigars that have achieved major successes on the American market.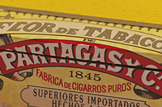 Partagas is known and appreciated for its strong and rich flavor, without any trace of bitterness or harshness, characteristics also featured in the two newcomers. Partagas Spanish Rosado features a wrapper from the San Augustin Valley in Honduras that provides a spicy taste with a hint of cinnamon.
A Connecticut Broadleaf binder surrounds a blend of Dominican, Honduran and Mexican tobaccos. Partagas Cifuentes Blend features sun-ripened Honduran wrapper leaves with filler and binder from Nicaragua, which gives the cigar a full-bodied and rich flavor.
PARTAGAS ORIGINATED IN CUBA , where Jaime Partagas started production in 1845. However, it was Ramón Cifuentes and his namesake who made the brand the leader among Havanas. Shortly after Fidel Castro overthrew the government, Ramón was forced to flee, never to return. Finally, he restarted production in the Dominican Republic to carry on the tradition of the full-bodied and flavor-rich cigars.
In addition, the Partagas 160 jubilee cigar was launched in a limited number. It is cigar master Daniel Núñez' tribute to his mentor, Ramón Cifuentes. A vintage, masterful cigar for the most dedicated bon vivant, the Partagas 160 is produced using a unique 30-year-old wrapper from Cameroon. The tobacco, which is renowned for its dark, nearly black color and extraordinary taste character, was selected exclusively for this commemorative cigar.