News; Nov 19, 2008 CET
Quality and tradition
Jhonys Diaz, General Manager of the Swedish Match tobacco plant in the Dominican Republic, has a lot on his mind at this time of the year. Read his thoughts and commitment to producing high-quality cigars.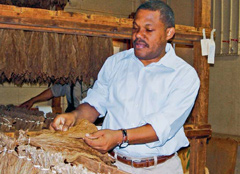 "During this time of year, I work to oversee production of the new products we debuted in July at the International Premium Cigar and Pipe Retailers Association, which is the annual tradeshow for the premium cigar category," he says. "This effort entails ensuring that we are fulfilling shipments of new and established products. I am also working to plan production for the remainder of this year and next year."
How is quality maintained year after year?
"Quality is a hallmark of General Cigar. It is an integral part of everything we do in cigar production. In my role, I uphold the company's commitment to quality by ensuring the tobacco is properly cared for and that the people who handle it are well trained. I also oversee our quality-assurance team to make sure that every cigar is handcrafted to perfection. Another way we maintain the quality of our products is to retain employees. Many of the skilled artisans who work in our Dominican factory have been working with us for decades. In fact, it is not unusual for two generations of the same family to have worked in the factory."
How do you create new cigars?
"I am a member of General Cigar's new product-development team. As such, I consult with Cigar Masters Daniel Núñez and Modesta Fondeur by providing my input on prototypes developed for the US and international markets. We also work to develop cigars that will meet the needs of our consumers, based on input given to us by key executives from our sales and marketing teams. New product development is an exciting process. I truly enjoy creating new cigars together with my colleagues."
How do you stay on top among competitors?
"To maintain our leading position within the premium cigar category, quality is of the utmost importance. After all, General Cigar has cultivated a stellar reputation for quality among retailers and consumers. Still, we are never able to rest on our reputation. We are only as good as the cigars we bring to the marketplace."
What inspires you?
"I am inspired by the passion that our employees have for our products. I am also filled with pride when I walk through the factory and speak with our employees because their commitment to making the best cigars in the market is evident in everything they do."
By: Victoria McKee