News; Nov 9, 2007 CET
Red Man – from chewing tobacco to snuff
Red Man is one of the most recognized brands in the US and has been on the market longer than iconic American brands such as Coca Cola and Chevrolet. As the best-known brand of chewing tobacco, Red Man represents quality, heritage and tradition. These are the values that Red Man will now apply as the brand is launched as a traditional American moist snuff product in the growing American snuff market.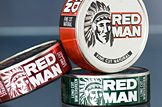 "Expanding Red Man's brand to include the snuff category will provide snuff with immediate access to the values that Red Man represents - quality and tradition. These are characteristics that American snuff users appreciate," explains David Price, Vice President Marketing at Swedish Match North America Division.
Swedish Match already has two strong traditional American moist snuff brands - Longhorn and Timber Wolf. Adding Red Man to the portfolio is a deliberate step in the company's growth strategy. While the American snuff market is growing steadily, the market for chewing tobacco is declining.
Red Man moist snuff, which was launched in test markets in ten US states at the beginning of September, is available in three varieties - Long Cut Straight, Long Cut Wintergreen and Fine Cut Natural. The cans have metal lids that are stamped with the distinctive Red Man Indian-head logo.
"It's too early to comment on consumer acceptance, considering that the product has hardly reached the shelves. However, we are exceeding all distribution targets in the test market as retailers are embracing the new product. From a consumer perspective, we anticipate a strong trial due to the equity of the brand name, which means distribution is a key first step. We are confident that this brand proposition will be a strong addition to our portfolio" says David Price.