News; Aug 18, 2010 2:05 PM CET
Red Man Moist Snuff Flavor Fresh™ Lid
The makers of Red Man Moist Snuff announced today a revolutionary new lid that is guaranteed to lock in freshness. The brand that pioneered the foil fresh pouch more than 40 years ago continues to drive innovative packaging with the launch of the new
FlavorFresh™ Lid
, a packaging improvement specifically designed for Red Man Moist Snuff.
The new lid creates a tight seal, improving moisture retention and locking in freshness so every can of Red Man Moist Snuff is as fresh as the day it was made.
Consumer research shows that moist snuff users are demanding freshness. "For adult moist snuff users, freshness is extremely important in their purchase decision," according to Steve Abbot, Senior Brand Manager for Red Man Moist Snuff. "For our consumers, the new lid means that the tobacco stays moist and fresh, ensuring that Red Man Moist Snuff always tastes great."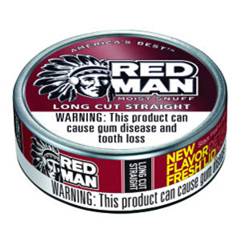 The launch of the new FlavorFresh™ Lid will be supported by a national sweepstakes that gives adult consumers a chance to win a fresh American experience in the Alaskan Wild. Abbot adds, "We think you have to travel pretty far to find an experience fresher than the one under the Red Man Moist Snuff Flavor Fresh™ Lid. To prove it, we're sending one lucky dipper deep into America's freshest frontier – the Alaskan wilds.
" One winner and their guest have a chance to win a five day adventure exploring the untouched backdrop of the country's 50th state. Dippers can create their own package from a variety of excursions including: an Alaskan Wilderness Cruise, a train trip to Spencer Glacier, and a flight to tour Mt. McKinley, America's tallest mountain. Adult consumers over 21 years old can enter each day by visiting the website. The contest ends November 15th.
Red Man Moist Snuff is made from a blend of high quality tobacco and is available in long cut wintergreen, fine cut natural and long cut straight---the three most popular flavors in the moist snuff category.
About Red Man Moist Snuff: For more than 100 years, Red Man has been one of the most well known and well respected brand names in the smokeless tobacco category. Red Man Moist Snuff is the latest addition to this renowned brand family. Quality, heritage and tradition - that's what Red Man Premium Moist Snuff is all about.