News; Aug 1, 2007 CET
Salsa ups the pace
Salsa and cigars are an unbeatable combination that creates sweet music when the blue smoke wreaths intertwine with harmonious tones. This was observed by Swedish Match last year, when the Salsa cigar was introduced to parts of the European market. Now the pace is being accelerated. In May, Salsa was launched in Spain, with the specially developed products Salsa Puritos and Salsa Cigarritos.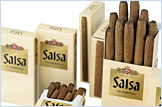 "Salsa Puritos and Salsa Cigarritos are customized for the large Spanish market and offer affordable enjoyment for Spanish cigar consumers," says Marcel Verhoeven, International Brand Director Cigars, Swedish Match International Division.
With annual consumption of approximately one billion cigars and cigarillos, Spain is the third largest cigar market in Europe, after France and Germany. The popular valuesegment is one of the most rapidly growing in the country. Swedish Match currently has 5 percent of the Spanish market for cigars and cigarillos, but is aiming to increase its market share through launches within product categories that were not previously represented by the Company.
Both new members of the large Salsa family are machine-made and have natural wrappers from Java, which produce a mild and pleasant tobacco flavor. They are packaged in modern and practical paper boxes of ten products each. "The introduction started in May, so it is still too early to comment on the outcome, but it looks very promising," concludes Marcel Verhoeven.