News; May 28, 2012 CET
The Solstickan Award for 2012 goes to Stina-Clara Hjulström
The Solstickan Foundation has awarded this year's Solstickan Award of 150,000 SEK to Stina-Clara Hjulström of Stockholm, Sweden, with the following commendation: "for using a strong and professional voice to promote the right of dementia patients to a dignified life. Spreading knowledge about dementia and the need for strong support for dementia patients and their loved ones is the common denominator in Stina-Clara's tireless commitment."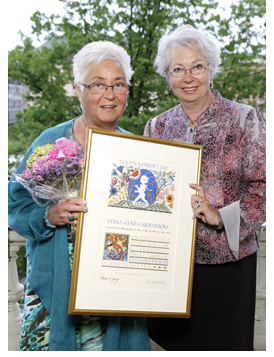 For many years and with a strong voice, Stina-Clara has been committed to dementia care in Sweden in every possible context and has highlighted the needs of dementia patients. Since 1997, she has been the Chair of the Swedish Dementia Association, which has 130 local chapters and 11,000 members.
Since 1986, the Solstickan Award has been bestowed annually to an individual who has made an extraordinary personal commitment in the areas stipulated as relevant under the Foundation's statutes.
2 MSEK to the Foundation
For every product sold under Swedish Match's Solstickan brand, a portion of the sales revenue is donated to the Solstickan Foundation. Since 1936, some 10 billion boxes have been sold in Sweden, representing a donation of more than 100 MSEK to the foundation since its inception. The Annual General Meeting of the Foundation was told that the many thousands of small öre increments from the sale of matches in 2011, plus donations, had generated slightly more than 2 MSEK.
Project grants
At the Annual General Meeting of the Foundation, the Board resolved to grant funds to the following projects:
The Psychological Health Foundation: 200,000 SEK to the Äldrelinjen (Elderly line) project; a support line for elderly individuals who are not well psychologically. The aim of the project is to provide telephone support to 1,000 elderly individuals during one year of operation.

Glädjeverkstan (the Happiness Workshop): 100,000 SEK to the Clowner geriatric care pilot project, where the target group is elderly individuals suffering from dementia.

The Children First Foundation: 50,000 SEK to complete the second year of the Equality project, which aims to counteract and prevent honor-related violence by helping young people and families with patriarchal values find their place in the new society. The project also aims to improve integration among immigrant families and to provide information on gender equality and women's rights.

The Committee to Defend Women's Rights: 80,000 SEK to complete the second year of the Only Children project – a support project for children of mothers exposed to violence, which was launched in February 2011. The project's target group comprises children who live with their mothers at a protected living facility or who recently received their home. The project focuses on enabling these children to just be children and for their mothers who are exposed to violence to gain a social network and to associate with others in similar situations. The objective is to offer various children's activities and field trips, as well as employment for the mothers.

Jens Nygren, Halmstad University: 66,000 SEK for the first part of the project aimed at developing an online digital service for friendship support for children and to study how such a digital service can promote psychological wellbeing among exposed children. The focus is on children diagnosed with cancer.

Research scholarships
Every year, the Solstickan Foundation announces scholarships of 50,000 SEK each to enable time for research training ahead of a licentiate degree or PhD. The individual who submits the application that is by far the most original and significant is awarded the Rolf Zetterström Scholarship of 100,000 SEK.
This year's Rolf Zetterström Scholarship was awarded to:
Anna Siverskog, social scientist, for her project At the end of the rainbow: A qualitative study about elderly HBTQ individuals.
Other research scholarships of 50,000 SEK each were awarded to:
Anna Brorson, registered occupational therapist, for her project Accessibility in society's public spaces for individuals suffering from dementia.

Anna Lundh, physician, for her project Children´s Global Assessment Scale (CGAS): a scale for evaluating functionality in children and young people with psychological symptoms. Applicable result measurements when evaluating real-world care.

Catarina Nahlén, registered nurse, for her project Stress management and emotional well-being among individuals with heart failure – a randomized controlled study.

Roland Zügner, registered physical therapist, for his project Does a difference in leg length impact the walking pattern of children with cerebral palsy?