News; Jan 21, 2009 CET
Solstickan Seminar Invitation
Children in hiding today and tomorrow. A seminar on health and human rights arranged by Solstickan and the Nordic School of Public Health (NHV).
Date: Wednesday January 28, 2009
Time: 09:30-16:10
Place: Nordic School of Public Health, Gothenburg, Sweden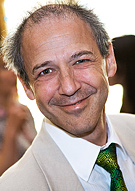 Henry Ascher
Refugee children seeking asylum have often experienced war, conflicts and assault.
– They are also exposed to pressures connected with the migration process and uncertainties surrounding their future, says Henry Ascher, associate professor at NHV.
Children in hiding constitute an even more vulnerable group and they are invisible in several respects. According to Ascher, knowledge about their situation is limited, and he will be giving an account of the knowledge that is available within the area. Today, when interest is shifting from refugees to economic migrants, these children risk becoming even more invisible.
The seminar on health and human rights is being held by Solstickan and NHV on 28 January 2009. As part of the 2008 Solstickan Award, Henry Ascher has been given the opportunity to invite leading experts to an academic seminar t NHV, which he has entitled Children in hiding today and tomorrow.
One of the speakers will be Professor Paul Hunt, the UN's first special rapporteur on the right to health. He is also an honorary doctor at NHV.
Paul Hunt will be speaking about the link between health and human rights:
– What is the connection between health and human rights? What role do human rights have in the struggle to establish a health system that is available for all.
Charles Watters, Director of the European Centre for Migration and Social Care at the University of Kent, will be speaking about children, human rights and the asylum process. He points out that many states have signed agreements to protect children and make the asylum process accessible to them, but that there is frequently a tension between attention to the health and well-being of asylum-seeking children and endeavours to control migration:
– What sort of gap exists in the industrialised countries' asylum processes between conventions and protective rules on the one hand and reality on the other hand, and how can practicing doctors and researchers bridge it?
Other participants include Boris Pendic, 19, who will relate his own experiences of living in hiding, Sanna Vestin, head of Save the Children's helpline for children who do not have any documents, the researcher Signe Smith Nielsen from the University of Copenhagen and Gunlög Hedtjärn, child and adolescent psychologist in Gothenburg. The seminar will conclude with a discussion on how we can support children who are or have been in hiding.
Contact:
Henry Ascher: +46 (0) 31 69 39 74 +46 (0)707- 993 728
henry.ascher@nhv.se
Emma Ricknell, NHV, +46 (0) 31 69 39 62
emma.ricknell@nhv.se
The seminar is free of charge and lunch will be served without cost.

Written by:
Monica Bengtson
NHV/ Nordic School of Public Health