News; Dec 1, 2015 7:00 AM CET
Swedish Match launches General Kardus Fäviken 2016
2016 marks the 150th anniversary of General, Scandinavia's largest snus brand. To celebrate this, Swedish Match is launching the exclusive snus General Kardus Fäviken 2016, created by perfectionist Johan A Boman in 1866 and now interpreted by Chef Magnus Nilsson at Fäviken Magasinet – 150 years later.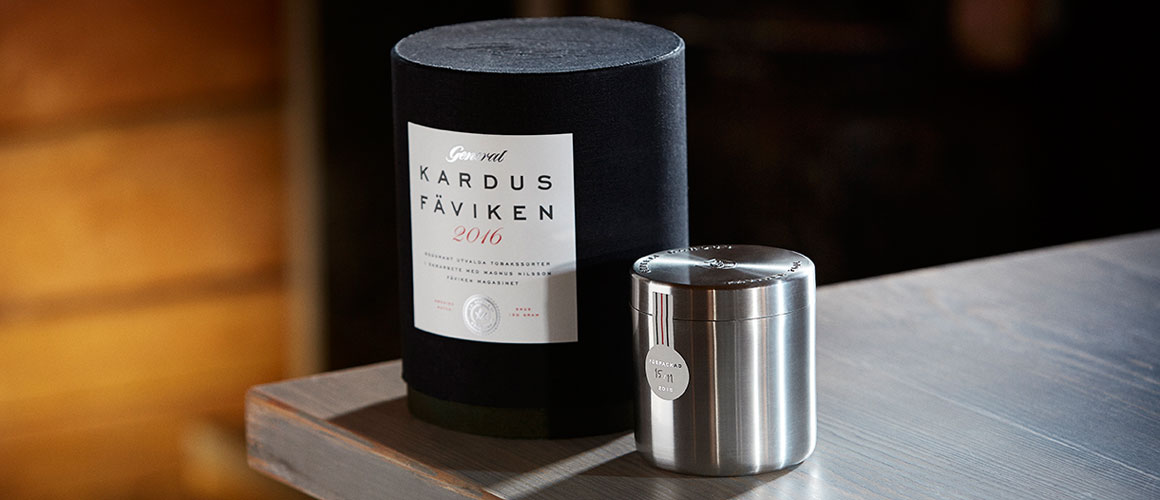 Magnus Nilsson is the award-winning chef from Fäviken Magasinet, ranked 25th among the best restaurants in the world, and is a winner of the Global Gastronomy Award from the esteemed White Guide. Swedish Match has manufactured snus for nearly 200 years and is responsible for Sweden's best-known snus brands. Two experts, from two diverse industries, with the common goal of creating the world's best snus.
"It's commonplace to receive requests for various forms of collaborations when you have reached a certain level in this industry, but this project really grabbed my attention. It has been stimulating to be given access to Swedish Match's know-how of the craftsmanship that goes into making snus, and particularly to discuss the selection of raw materials and how to optimally prepare them with Swedish Match Master Blender Lars Öberg. Together, we have developed a snus for the true aficionado," says Magnus Nilsson.
Magnus Nilsson's interest in the Swedish cultural heritage led him to snus in 2009, when he started to deliberate offering snus as a complement to coffee at Fäviken Magasinet. What at first was an exciting idea soon developed into a serious project. Magnus started reading about snus manufacturing and the product's cultural significance in Sweden. While doing so, he came across Swedish Match's vintage snus Kardus. Drawing inspiration from Kardus, Magnus started to experiment with tobacco, consistency and flavor. He purchased Swedish tobacco seeds and started to grow his own tobacco in Fäviken. He has offered his guests his own snus made at Fäviken Magasinet since 2013.
"For the development of General Kardus Fäviken, we have combined selected parts of General Kardus with Fäviken Magasinet's snus. The product contains many elements of the process we have used in the production of our own snus here at Fäviken, but we have been able to further refine it using Swedish Match's snus expertise," says Magnus Nilsson.
Carl Egeberg, Brand Manager for General, was tasked with making Swedish Match's most luxurious snus product, General Kardus, even better to provide a launching pad for General's 150th anniversary. He says that he is particularly proud of his involvement in the development of General Kardus Fäviken.
"General Kardus Fäviken has a good balance between Swedish Match's expertise of manufacturing snus and Magnus's gastronomical know-how. One example of how this is reflected in the product is that this is the first time we have matured tobacco in oak casks. The oak casks in which the snus has been matured impart a distinct flavor to the product. Never before have we used tobacco from so many different countries as in this year's edition of General Kardus, and we are combining this diversity with a local flavor from Jämtland. There is a piece of Fäviken in each and every one of the 3,000 numbered editions of General Kardus Fäviken," says Carl Egeberg, Brand Manager for General at Swedish Match.
General Kardus Fäviken 2016
December 1, 2015 marks the launch of Swedish Match's General Kardus Fäviken 2016 – developed in collaboration with the award-winning Chef Magnus Nilsson from Fäviken Magasinet restaurant and hotel.
General Kardus Fäviken contains 150 grams of snus, carries a recommended price of SEK 995 and is manufactured in a limited edition of 3,000 numbered cans.
The tobacco blend of General Kardus Fäviken 2016 has been specially developed and comprises tobacco grown in Fäviken combined with carefully selected tobaccos from plantations in Argentina, the US, India and Guatemala.
The tobacco in General Kardus Fäviken 2016 is all lamina, meaning that the stalk and midrib is removed and only the finest parts of the leaf are used. The tobacco is then cut into 0.72 mm strips, in a method that is known as single cut. This yields a cut surface that exposes the structure and that imparts a longer-lasting flavor, unlike ordinary loose snus, which is ground.
General Kardus Fäviken is a carefully balanced snus with a pronounced taste of the oak barrels in which it was aged, along with notes of wild berries and herbs.
General Kardus Fäviken 2016 is packaged in a hand-made pewter, where the snus continues to mature. Optimal flavor is achieved after about eight to 12 weeks, after which the flavor profile changes, but the snus can naturally be enjoyed long afterwards.
The product will be sold in Swedish Match stores in Stockholm, Gothenburg and Strömstad, as well as 90 selected retailers nationwide from December 1.