News; Jul 3, 2015 12:40 PM CET
Swedish Match opens store in the capital of snus, Gothenburg
Today, July 3, Swedish Match is opening a snus store on Kungstorget in Gothenburg. The store will offer adult snus users a unique experience in the craftsmanship, history and quality of snus. In conjunction with the opening, a limited edition of the snus product, Göteborgs Rapé, will be launched as a tribute to Gothenburg.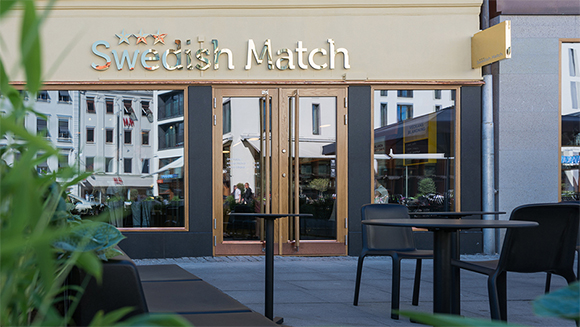 "We are incredibly happy to have finally found a location in Gothenburg and to be able to open a store today in what our consumers call the capital of snus! It is gratifying and also important to now be able to offer those in Gothenburg who are interested in snus the opportunity to receive expert assistance from our staff and for us to have premises from where we will be able to relate our history, tradition and, particularly, our quality work, GOTHIATEK®, which is the cornerstone of what makes our Swedish snus unique in the world," says Cecilia Källbäck, Business Area Manager, Swedish Match.
The store concept is based on Swedish Match's nearly 200-year cultural heritage of snus production and focuses on personal service and genuine craftsmanship. During the spring, the concept was further developed to be able to offer unique experiences for adult snus users. This includes the installation of a specially built refrigerated room in the Gothenburg store, which has space for Swedish Match's entire Nordic range and maintains the ideal snus temperature of eight degrees Celsius. Snus is also delivered to the store every day directly from Swedish Match's two snus plants located in central Gothenburg and Kungälv.
"The aim of the store is to be a meeting place for adult snus users. A place where consumers will be able to get answers to their questions directly from our snus experts. A place where the tradition of snus meets the present and where snus can be enjoyed and experienced. Our visitors will also have the opportunity to participate in snus courses where they will gain insight into the history of snus and be able to mix and flavor their own snus with the help of our snus experts," says Eleni Tjernberg, Store Manager for the Swedish Match store in Gothenburg.
In connection with the opening of the Swedish Match store in Gothenburg, a limited edition of Göteborgs Rapé white portion called "Göteborgs Rapé Göteborgs Edition" will be launched.
"Göteborgs Rapé is one of the most widely sold snus brands in Gothenburg and this special edition was produced to pay additional tribute to the city. The design was inspired by the City of Gothenburg and the flavor is a spicy version of the popular white portion. We believe that this could add value to the existing users of Göteborgs Rapé in Gothenburg," says Tove Lundgren, Product Manager, Göteborgs Rapé.
Information Swedish Match Store Avenyn
Opening hours:
Monday-Friday 10:00 a.m. - 8:00 p.m.
Saturday-Sunday 10:00 a.m. - 6:00 p.m.

Kungstorget 10
SE-411 10 Gothenburg

Tel: +46 (0)31-807292
E-mail: store.avenyn@swedishmatch.com
Website: www.swedishmatch.com
Information Swedish Match Stores
Swedish Match opened the world's first snus store in Stockholm on December 1, 2012. It was a great success with a large flow of customers, which was rapidly followed by a second store in Nordby Shopping Center in Strömstad in February 2014. Now, on July 3, 2015, Swedish Match is opening its third store in Gothenburg.