News; Oct 22, 2008 CET
Swedish Match tops website ranking
For the third consecutive year, Swedish Match has topped an annual website ranking performed by Swedish PR firm Hallvarsson & Halvarsson, which ranked more than 700 of the largest listed companies in Europe and the 100 largest listed companies in Sweden.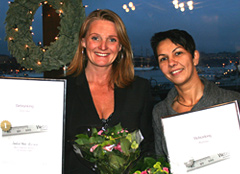 Webranking Awards 2008: Annette Kaunitz, Director Internal and Corporate Relations,
and Djuli Holmgren, Project Manager Web.
"We are delighted that Swedish Match has topped the ranking for the third successive year. This also demonstrates that our work in the area of online communications is proceeding as planned. This ranking is the result of long-term and dedicated work and we have long made a determined effort to provide the information that we know our shareholders, analysts and other stakeholders are looking for," says Annette Kaunitz, Director Internal and Corporate Relations.
A total of 361 analysts, investors and journalists rated the websites.
"This year's ranking shows that the companies that have not improved their websites are dropping in rank. Several Swedish companies fell in the ranking because they have not provided sufficient information about their CSR activities and too little information for job seekers," explains Marcus Eriksson, head of the website ranking, to Dagens Industri.
Investors are primarily looking for information concerning business concepts, financial development, key figures and environmental certification. Analysts are interested in the dates of capital market days, analyst meetings and online publications of interim reports. Journalists are concerned with establishing contacts and having access to a comprehensive image bank.
Because Swedish Match's sales are not sufficient to earn a spot on the FTSE500, the company is not included in the ranking of European websites.