Ensure ethical business practices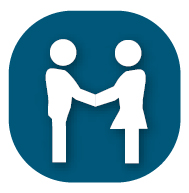 At Swedish Match, we will take the necessary steps to ensure that ethical business practices are maintained within our own company and in our relationships with all outside parties.
Our rationale for inclusion
At Swedish Match, ethical business practices are vital for keeping our stakeholder's trust and for the long-term success and profitability of the Company. A company based on strong business ethics will keep employees engaged and will be perceived as trustworthy for consumers when making their purchasing choices.
Our tobacco and nicotine products are produced and marketed for adult users. Youth are particularly sensitive to nicotine and should never use any tobacco or nicotine containing products and should be prohibited from buying any such product. As a producer, it is our responsibility to engage with retailers to ensure that they properly understand the need to enforce required age-verification upon sale of tobacco and nicotine products.
Our commitment
Swedish Match is committed to sound business ethics in all our business activities and relations with stakeholders, both within our own operations and when interacting with third parties. We build relationships through honesty and integrity. We are committed to comply with all laws and regulations, and where we deem appropriate, to maintain a higher standard than required, in the countries in which we operate. We believe that business relationships, when built on common values, mutual respect and trust, are important to our long-term success.
The scope of this focus area is the entire value chain.
Our goal
At Swedish Match, we will take the necessary steps to ensure that ethical business practices are maintained within our own company and in our relationships with all outside parties.
Ethical business practices fully embraced and integrated into our corporate culture.
Zero level of incidents rooted in non-ethical business behavior.
Responsible marketing with 100 percent compliance with our policy to exclusively market to adult consumers.
Our challenges
No direct control on age verification process at retail where our products are sold.
Diverse and sometimes unclear regulatory requirements for certain product categories on international markets.
Current tobacco regulation has a "one-size-fits-all" approach that does not take into account the differences between product categories and their respective risk profiles.
Our Approach
Our Code of Conduct
Our Code of Conduct represents the commitment of Swedish Match and of all its employees to conduct business activities in a responsible manner, consistent with applicable laws and regulations. It applies to all employees within the Swedish Match Group, regardless of location or role. Matters addressed in the Code of Conduct are continuously communicated to employees through, for example, the Company's Intranet.
As part of our activities to help ensure awareness of the Code of Conduct and to find out whether our employees have reviewed or been informed about the Code of Conduct, we conduct periodic employee surveys. Mandatory training is done through e-learning to supplement town hall meetings and similar events. Employees without e-mail accounts, hourly employees and consultants also receive training related to the Code of Conduct.
Business Ethics Council and Procurement Council
The Business Ethics Council and Procurement Council target enhancement within general business ethics matters and assurance of adherence to our Supplier Code of Conduct. With the responsibility of the sustainability area decentralized to the Company's divisions and operating units, the councils are designated to assist in the coordination of activities and best practice sharing.
Corruption and bribery
At Swedish Match we have zero tolerance towards corruption and bribery. Swedish Match shall not participate in, or through third parties, endorse any corrupt practices. This is clearly stated in the Code of Conduct. Raising awareness and knowledge in these areas within our organization is of high importance and relevant employees are required to complete a specific e-learning on the subject. The e-learning is also open to anyone else within the organization.
Fair competition
It is our belief that healthy competition contributes to increased business opportunities, improvement of economic performance and the reduction of cost for products and services. Competition between competitors shall be conducted in a fair manner and in compliance with competition laws. Our legal departments support the divisions on compliance with the relevant legislation when entering into agreements with our counterparties and performing market activities.
All employees within sales and marketing as well as management teams throughout the Group are continuously trained within fair competition. E-learning programs and tailor-made compliance manuals are also used to educate personnel within this area and will continue to be used targeting employees within e.g. sales and marketing, procurement as well as research and development.
Anti-money laundering
Money laundering is prohibited by Swedish Match in line with the anti-money laundering laws of various countries. Money laundering is a global problem with potentially very serious consequences. Swedish Match remains vigilant to this concern in our business relations and acts diligently to prevent our products from being
used for money laundering. E-learning on anti-money laundering is required for relevant employees within the organization.
Raising concerns and the whistleblower function
To further secure sound business ethics within the organization, we encourage all employees to speak up if they become aware of behavior that is not in line with the Code of Conduct. When raising a concern, employees can always contact their managers, their manager's immediate manager, division heads, or the HR or legal departments. Swedish Match also has a whistleblower function that provides employees with the opportunity to report suspicion of non-compliance with the Code of Conduct to the Chairman of the Audit Committee when applicable. All raised concerns are treated seriously and investigated. Appropriate actions are taken in cases of misconduct. All concerns raised, and actions taken are reported to the Audit Committee. External auditors are also present at the time of these reports.
Our Supplier Code of Conduct
Our Supplier Code of Conduct reflects Swedish Match's Code of Conduct and specifies what we expect and require from our suppliers in terms of employment and labor practices, workplace practices, ethical business practices and environmental management practices. Requirements are based on and comply with international conventions and guidelines1). The Supplier Code of Conduct forms the basis for our relationship with suppliers and is an integral part of most of our significant business agreements.
For more information, see page Supplier Code of Conduct.
1) The international conventions and guidelines referred to here are the UN Universal Declaration of Human Rights, the UN Convention on the Rights of the Child, the ILO Conventions (No's. 001, 014, 029, 030, 087, 098, 100, 105, 106, 111, 138 and 182), and the OECD Guidelines for Multinational Corporations.
Our Distributor Code of Conduct
In certain markets, Swedish Match has extended its use of codes of conduct in our supply chains by adding a Distributor Code of Conduct which follows along the lines of our Code of Conduct. The intent is to promote good practice throughout our value chain over time.
Personal data and privacy
Swedish Match is committed to handling personal data responsibly and in accordance with applicable legislation. Employees and consultants are trained through workshops and e-learning in order to understand what privacy responsibilities and obligations mean for Swedish Match and how to comply with the regulations.
To comply with the European General Data Protection Regulation (GDPR), Swedish Match operates under a GDPR Governance Model and Compliance Program which aim to integrate GDPR compliance into existing processes as a natural part of our "day to day activities" and to truly embed the Swedish Match GDPR & Privacy Policy and supporting instructions within relevant parts of the Swedish Match Group. This GDPR framework serves to adopt an effective GDPR compliance structure with dedicated roles and departments accountable for various activities within the GDPR compliance areas. The compliance work is performed under the direction of our GDPR Privacy Steering Group, chaired by the General Counsel and supported by local Privacy Coordinators covering all legal entities in scope. Through an annual GDPR compliance monitoring procedure, we follow-up compliance within all relevant Swedish Match entities and annual GDPR compliance reports are provided to the Audit Committee of the Swedish Match Board of Directors.
Responsible marketing
Swedish Match is committed to marketing our products responsibly, in compliance with applicable laws and regulations or high ethical standards if no such regulation is in place. Responsible marketing is covered in the Company's Code of Conduct. The Company also applies division specific policies to ensure that all marketing, regardless of type, format or channel, is legally compliant and responsibly conducted in order to fully comply with the requirements and standards set by Swedish Match.
In relation to the innovative and emerging category tobacco-free nicotine pouches, which unlike e.g., tobacco products can fall outside the scope of sector specific legislation, Swedish Match is supporting and complying with initiatives for transparent and responsible self-regulation within the scope of industry agreements. We also provide clear information to the consumers about the health effects of our nicotine products and that the products are only intended for adults.
We have in place, and continuously improve, internal routines and processes to ensure legally compliant and responsible marketing. Our marketing material in general, and that relating to our tobacco and nicotine containing products in particular, is subject to strict internal approval procedures. Training of our employees and close cooperation between different internal functions are key elements. With regard to our nicotine containing products, we have age-gated brand websites and ensure to never employ actors/models in our marketing materials under the age of 25. These steps help to implement our standards and prevent underage use. We are committed to educating, informing, and cooperating with retailers, distributors, and public officials.
For Swedish Match's own stores, in Sweden, new employees are trained on responsible marketing and the prevention of underage use of our nicotine containing products. For our retailers, for example in Sweden, we have a designated program and a website which include clear information on applicable legislation and regulations and our own strict marketing policy.
"Adult only Tobacco and Nicotine" policy
For tobacco and other nicotine containing products, Swedish Match has an adult only policy which firmly states that all such products shall only be marketed and sold to adults of legal tobacco age in each market. If the legal tobacco age in any market is below 18, Swedish Match shall still adhere to a policy of 18 years of age or over. This means that we shall not direct any marketing, advertising or promotion of tobacco and other nicotine containing products to persons under the age of 18 or the legal tobacco age if it is higher.
We are committed to educating, informing, and cooperating with retailers, distributors and public officials to prevent the underage use of tobacco and other nicotine containing products. Swedish Match provides information materials to inform both customers and consumers of its position on the sale of tobacco and nicotine products to be designated only for purchases by adults over 18 or of legal age if above 18. Where it is legal, we may sell and market our products online and use face to face marketing and sampling, but only to age verified adults.
Source: Swedish Match Code of Conduct
Our progress
Progress update
The Code of Conduct have been reviewed annually. In 2022, the section on Personal Data and Privacy was updated with a reference to the Company's GDPR Governance Model & Compliance Program, where employees can find further information on how the Company collects, uses, and processes personal data to comply with European privacy laws. This is mainly an issue for the Company's European business, but the legislation also covers when European personal data is handled in the non-European businesses as well. During 2022, there were no internal data breaches recorded in the annual GDPR compliance report provided to the Audit Committee of the Swedish Match Board of Directors.
Six Code of Conduct concerns have been raised and evaluated in 2022 and some of these have resulted in certain corrective actions.
In the past four years, Swedish Match did not incur any fines or settlements related to anti-competitive practices nor was involved in any ongoing investigations. Regarding corruption and bribery, the Company is currently not involved in any ongoing cases and has not had any confirmed cases in the past four years.
In 2022, Swedish Match continued to ensure that the Company's significant suppliers of direct material commit to the principles of Swedish Match Supplier Code of Conduct by either having signed our Supplier Code of Conduct or having their own Codes of Conduct and mechanisms which are broadly similar to our Supplier Code of Conduct.
| Ethical business practices | 2022 | 2021 | 2020 |
| --- | --- | --- | --- |
| Share of employees that have completed training on our Code of Conduct1), % | 96 | 96 | 97 |
| Share of employees that believe that they have had an adequate amount of information and training on the Code of Conduct2), % | 90 | N/A | 88 |
| Share of relevant employees that have completed training on anti-corruption, % | 94 | 95 | 95 |
1) Relates to individual training for employees with personal e-mail accounts as well as group session training performed for employees in factories without personal e-mail accounts. This includes consultants on contracts with a duration of over three months.
2) Data collected through the Group employee survey which has been conducted regularly. The latest survey was conducted in 2022.