Equal opportunity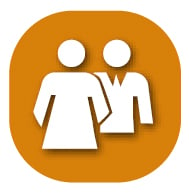 Our continuing objective is to be a truly open and inclusive employer. In this environment, with zero tolerance for discrimination, all employees have equal opportunity to achieve their full potential – resulting in a more diverse workplace.
Our rationale for inclusion
We are convinced that a diverse workforce and diverse management groups are positive for our business. Diversity creates value in and of itself, and a balanced workforce improves our chances of recruiting and retaining the best talent and to keep employee engagement. We have identified gender and cultural background to be the areas where the Company could benefit most from an increased diversity focus. We are still well below our Group goal of having at least 40 percent of each gender in senior management. We need to continue to take action and are confident that the initiatives we do now will have an effect in the long run.
Our commitment
We are committed to non-discrimination in all employment practices, policies, benefits and procedures and we work diligently to make sure that all our managers and employees understand that there is zero tolerance for discrimination. Neither employees, nor potential employees, should feel that they are or could be the subject of discrimination at Swedish Match.
At Swedish Match we put equal opportunities first and foremost in our work toward non-discrimination and diversity. We are dedicated to having an open and inclusive work environment where all our employees shall have equal opportunities to achieve their full potential, regardless of personal status. We take a proactive approach for diversity and against structural discrimination and norms that may stand in the way of equal opportunities.
The scope of this focus area is our own operations.
Our goal
Our continuing objective is to be a truly open and inclusive employer. In this environment, with zero tolerance for discrimination, all employees have equal opportunity to achieve their full potential – resulting in a more diverse workplace.
No employees should feel that they are, or could be, the subject of discrimination at the workplace.
To have at least 40 percent of each gender in senior management1).
To increase diversity in cultural backgrounds.
1) Defined as participants in the Company's Long-Term Incentive (LTI) plan.
Our challenges
Women are underrepresented at the management level and progress is uneven within the Group. The popularity of Swedish Match as a workplace and the resulting high retention rates both for managers and senior managers have resulted in slow progress but with positive trends in some parts of the Company.
It may be difficult or even illegal to measure several aspects of diversity.
Our approach
Tone from the top for equal opportunity
We believe that the most important element of our efforts is to foster a genuine culture of equal opportunity with the right tone from the top. Swedish Match's management is fully committed to our equal opportunity efforts. Progress is continuously being monitored and senior managers are mindful to set clear examples that help developing and fostering the culture. Many actions are taken each year to ensure that we create and maintain an inclusive work environment and we continually have initiatives to assess and improve our culture from a diversity perspective. We monitor our succession planning, recruitments and promotions, as well as organize gender equality programs, perform detailed equal pay analyses and conduct other equal employment opportunity efforts. Employee satisfaction and perceived ability to advance and develop are tracked through a global employee opinion survey which also includes parameters on discrimination.
How we achieve equal opportunity
Non-discriminatory promotions and recruitments
The processes for promotions and recruitments are very important aspects of shaping and developing a company culture. They are also key elements in achieving a more diverse workforce. We work hard to make sure that these processes are non-discriminatory. This will benefit our equal opportunity efforts both in the long and short term. We consider it to be strategically important to develop and promote internal personnel and we have been successful in filling many vacancies for senior positions with internal candidates. We, therefore, consider a diverse talent pool to be a key element of achieving a more diverse workforce at the senior management level over time. Swedish Match's management thoroughly reviews the pool of often relatively junior talented employees from several perspectives, including diversity, and discuss means to become more effective in ensuring a large and diverse pool of employees with a mixed set of skills that can advance far in the organization. For more immediate effects, external recruitment is an important tool. We view every external recruitment as an opportunity to ensure that we scan the entire market for the very best candidate. Experience has taught us that norms and existing structures, (e.g., candidate pools at recruitment firms) mean that we need to be prepared to make extra efforts and extend the search processes in time to ensure that the group of identified candidates becomes more diverse. We challenge our managers to try to have diversity among the final candidates for any position to make sure that we find the most skilled and promising candidate.
Incentives for equal sharing of parental leave
Specifically related to gender balance at senior positions, we have identified that inequality and norms related to parental leave creates structural inequality in several countries and societies where we operate. At Swedish Match, the rules and policies related to parental leave vary from country to country, but the culture of encouraging a more equal sharing of parental leave is promoted from the top.
To encourage both our male and female employees in Sweden to share the parental leave equally, a policy has been implemented granting additional parental leave compensation provided that the employee can show that parental leave has been equally shared with the partner. This policy has also been updated to create further incentives for equal sharing by employees at the most senior positions.
A diverse and international organization
Swedish Match derives its revenues and earnings mainly from outside Sweden. The Corporate functions, to a large but not complete extent based at the headquarters in Sweden, interact on a daily basis with colleagues across the globe. A diverse and international organization at the headquarters is a clear benefit in this environment. Colleagues from several continents work at the Stockholm headquarters, and Swedish Match is proactively engaging in specific employer branding activities targeted at highly qualified international students.
Zero tolerance for discrimination
We have procedures in place where any employee who feels that there has been a breach of our policy of zero tolerance for discrimination can report such breach. We also make sure that we have procedures in place to ensure that swift action is taken to investigate and resolve any such employee concerns without fear of retaliation.
Our general view on global gender pay gap analyses
At Swedish Match, we generally have a pre-set salary range for each position, which systematically decreases the risk of inequality of pay. We conduct an annual gender pay gap analysis in our larger markets, such as Sweden, but believe that a global gender pay analysis would provide quite limited additional value compared to the work effort and data quality. In some countries where we operate, we only have a small number of employees which provides a very limited number of comparable positions to analyze. Furthermore, due to differences in local pay practices, the salaries for comparable positions and the overall requirements for this type of analysis differ a lot between the countries where we operate. In the US, for example, the focus on equal pay is broader and include criteria such as ethnicity, while in Sweden, this is not possible due to privacy rules.
How we monitor our progress
To follow up on diversity goals throughout the organization, KPIs have been established for the Group. We have a Group goal of having at least 40 percent of each gender in senior management. Gender balance targets, and subject to legal limitations targets relating to cultural background, are also set locally striving for greater balance over time, particularly with regard to more senior levels within the organization. Analysis, identification of relevant initiatives and following up of targets and KPIs are integrated into normal processes for strategic, financial and general business planning and reviews.
All divisions as well as Corporate functions present status and changes in gender balance within their organizations. These status updates are reviewed by the management of Swedish Match and provide greater awareness and involvement in the organization. They are also followed up in succession planning and talent review meetings between the CEO and Division Presidents.
Our businesses in the US and Sweden present status reports within their organizations, concerning protected groups and employees from other cultural backgrounds or country of origin respectively. In Sweden, information is being gathered to identify the percentage employees and managers who are either born in countries outside of Sweden, or who have two parents born in another country. In the US, ethnic or racial background is a factor which is reviewed.
Our progress
Progress update
In the group of all employees, Swedish Match considers its total workforce balanced from the gender perspective, with a share of women of 41 percent in 2022. Even though we continue to see positive trends in some parts of the Company, women are still underrepresented at the management level. By the end of 2022, the share of women in managerial positions with direct reports was 29 percent, up from 28 percent in 2021, whilst the group defined as senior management, there was a small decrease in the share of women. This area remains a challenge as retention rates continues to remain high for both managers and senior managers. Even though the progress is slow, we still remain confident that our current and future efforts within this area eventually will increase the share of women in management positions.
The Company has a goal that no employees should feel that they are, or could be, the subject of discrimination at the workplace. This is continually followed up in performance management discussions between managers and employees and tracked in the global employee survey. The most recent employee survey was conducted in 2022 and for questions related to discrimination and equal opportunities, we see an improved result. Since our policy is zero tolerance for discrimination, the result is still not satisfactory and the areas continue to be priorities. The result of the survey is followed up within all divisions and guides the development of further action plans.
Swedish Match re-introduced The Big Match (originally established in 2018), offering a four- to six-month internship directed toward non-European foreign-born academics in the Swedish Match head office. The program is directed toward foreign-born academics who generally have more difficulties getting into the Swedish job market and the initiative gives us a possibility to increase social commitment and ethnic diversity in our workplace as well as an opportunity to identify future talents. The Big Match is a collaboration with a national internship program for newcomer and foreign academics, Jobbsprånget, the Swedish Public Employment Service.
The US Division continued work within the Diversity and Inclusion Program to create a more inclusive environment for all employees, regardless of race, ethnicity, gender, sexual orientation, disability, age, or religious affiliation. During 2022, focus has been on non-discriminatory recruitment efforts. For the eighth consecutive year, the division's head office in Richmond was also awarded Top Workplaces1) regional award.
In the Europe Division, the performance and recruitment process has been reviewed by an external party with focus on equal opportunity and unconscious bias. The division is also working on making all job descriptions for white collars accessible for the employees to promote internal mobility, increasing transparency on requirement of education and competences.
1) An employer recognition program in the US. The event is hosted by the Richmond Times Dispatch. For more information, please refer to https://topworkplaces.com/company/swedish-match-north-amer/richmond/)/.
| Gender representation1) | 2022 | 2021 | 2020 |
| --- | --- | --- | --- |
| Senior management | | | |
| Share of women in senior management, %2) | 18 | 21 | 19 |
1) Represents figures at year-end.
2) Defined as participants in the Company's Long-Term Incentive (LTI) plan during 2020 to 2022; composed of 39 members in 2022.
| Cultural background, affected group's share1), % | 2022 | 2021 | 2020 |
| --- | --- | --- | --- |
| Employees | | | |
| Sweden | 24 | 24 | 24 |
| The US | 16 | 16 | 16 |
| Managers | | | |
| Sweden2) | 10 | 11 | 12 |
| The US | 14 | 13 | 11 |
1) In Sweden, the affected group is defined as employees born outside Sweden or born in Sweden with two parents born outside Sweden. In the US, the affected group is defined as non-caucasian.
2) In Sweden, the managers are defined as managers and any other employees with one of the hundred highest salaries in the Swedish Match workforce.