Reduce greenhouse gases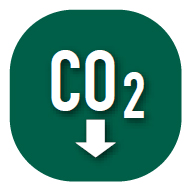 Our goal is to reflect the commitments outlined in the Paris Agreement and thereby reduce emissions of greenhouse gases in our value chain.
Our commitment
The effects of climate change pose a risk to all of us. At Swedish Match, we acknowledge the severity of this issue and we welcome the rising ambitions within the corporate sector at a global scale. We commit to do our part in addressing climate change supported by science-based targets for our business' value chain.
The scope of this focus area is the entire value chain.
Our goal
Our goal is to reflect the commitments outlined in the Paris Agreement and thereby reduce emissions of greenhouse gases in our entire value chain.
Reduce emissions of greenhouse gases by 75 percent by 2050, with 2017 as the base year, in our value chain (Scopes 1, 2 and 3), resulting in:
A commitment to reduce GHG emissions by 4 percent per year, every year, until 2050.
A reduction target of 12 percent by 2020, and by 41 percent by 2030.
Our approach
Accounting for greenhouse gas emissions in our value chain1)2)
We report GHG emissions from our own facilities (Scope 1 direct emissions), emissions from purchased energy used in our own operations (Scope 2 indirect emissions), and emissions in our full value chain according to the Corporate Value Chain Standard (Scope 3) of the Greenhouse Gas Protocol3).
Swedish Match's direct emissions (Scope 1) and indirect emissions (Scope 2) account only for 16 percent of the total GHG emissions. The remaining 84 percent includes emissions both upstream and downstream (Scope 3) in our value chain where we believe we can have the most positive impact. A large part of the Scope 3 emissions stem from the extraction and production of raw materials, e.g. tobacco, timber and nylon, as well as packaging material.
Latest generic emission factors have been used to a large extent to calculate emissions4). All six GHGs covered by the Kyoto Protocol5) are included in the calculations, assumptions and emission factors have followed a conservative approach.
1) Figures described in this section are based on best available information and are subject to revision. Revised figures will be presented on the Company's website when available.
2) Data excludes newly acquired Gotlandssnus facility.
3) International standard for calculating and reporting climate impact from business activities.
4) Main sources of reference for emission factors include DEFRA, Ecoinvent and IEA.
5) IPCC Fourth Assessment Report.
Reducing GHG emissions in a science-based manner
We have developed an emission reduction strategy with science-based targets, based on the revised measurement made in 2016. Science-based targets are in line with the level of decarbonization required to keep the rise in global temperature below 2°C compared to pre-industrial levels6). In this process we have been guided by the methodology of the Sectoral Decarbonization Approach7) (Other Industry8) pathway) and made use of the associated calculation tool to form a basis for our decision.
Our targets were set through the Science Based Targets Initiative (SBTi) and approved in March 2019.
Our GHG reduction targets have been set by the Group Management Team and approved by the Swedish Match AB Board of Directors. The responsibility to achieve the targets has been delegated to heads of our divisions. This organizational approach ensures that targets are integrated into, and continuously followed-up upon, as part of normal business operations and review processes.
In the process of setting targets, we have identified a wide range of actions to be taken in pursuit of reducing our value chain emissions. Action plans have been set and responsibilities have been distributed across the Group for main sources of emissions. Initial actions include revisiting procurement practices and replacing materials and energy sources with alternatives of lower carbon intensity, using resources more efficiently, engaging with business partners, and, in the longer term, developing products with lower carbon intensity. We will also continuously aim to enhance our accuracy in the GHG accounting, which will help us to find further potential for reduction and to set the right priorities for our actions.
6) As described by the Intergovernmental Panel on Climate Change (IPCC).
7) Sectoral Decarbonization Approach (SDA): A method for setting corporate emission reduction targets in line with climate science (2015). www.sciencebasedtargets.org.
8) The "Other industry" sector includes all industries that cannot be allocated to the industry sectors Iron & steel, Cement, Aluminum, Pulp & paper and Chemicals & petrochemicals, e.g. food, beverage and tobacco processing.
CDP
Swedish Match annually reports information on governance, risk and opportunities and climate data to CDP9).
By reporting to CDP, our stakeholders are provided with more information about Swedish Match's initiatives and their results. In 2019, we have improved our overall CDP score to B- from C in 2018. We have also received A- for Supplier Engagement Rating.
9) CDP (formerly Carbon Disclosure Project) is a not-for-profit charity that runs the global disclosure system for investors, companies, cities, states and regions to manage their environmental impacts.
Our progress
Highlights 2019
Employing a science-based approach and a commitment to the Paris Agreement, Swedish Match has actively pursued programs to reduce GHG emissions.
Installation of biomass bed and solar panels at the Kungälv factory (Sweden).
22 percent reduction of plastic use in can lids used for moist snuff pouch products at the Owensboro factory (US).
Continued programs to reduce carbon intensity in the US facilities: 85 percent of total cigar consumer packaging converted to lower aluminum content.
All three factories in the US Division converted to LED lightning.
"Green" electricity employed at 100 percent at the Assen factory (the Netherlands) since the fourth quarter 2019.
Introduced recycled nylon in the manufacturing of lighters at the Assen factory.
Reduced nylon usage for lighter production at the Assen factory.
Additional solar panels installed at the Manila factory (the Philippines).
Introduced new match head composition with lower use of chemicals.
SMD Logistics (Sweden) has implemented eco driving system for internal fleet of vehicles and those of our Road Cargo partner.
SMD Logistics have installed solar panels in the facility in Sweden.
Progress update
The GHG emissions across the value chain amount to 197,648 tons CO2-equivalents (CO2e) for the year 2019, which resulted in 0.8 percent reduction compared to 2018. Scope 1 and Scope 2 emissions have increased slightly driven by a capacity expansion in our Owensboro facility in the US, where currently most of the energy is sourced from natural gas. Total Scope 3 emissions have decreased year over year supported by reduction of packaging materials in the US, as well as lower amount of nylon and timber used by our Lights Division. Our emissions per unit of production have increased primarily driven by declines in match volumes, which has relatively lower carbon intensity compared with the rest of our portfolio. In constant volume mix for our portfolio, our emissions per unit of production was down by close to 2 percent. Measured per unit of net sales in local currency terms, our emission were reduced by more than 8 percent.
We acknowledge that it remains challenging to reach our 2020 target of 12 percent reduction versus the 2017 baseline, recognizing that we have a growing business within for instance nicotine pouches and it takes time to fully implement all the planned initiatives. As our greenhouse gas reduction target is set based on a long-term view, continuous efforts will be made to deliver a year over year improvement. To further reinforce our commitment to the target, it is proposed to add an additional performance metric in the Long Term Incentive plan for 2020 based on our ambitions to reduce GHG emissions in line with the Paris agreement.
We continue to shift towards fossil free energy used in our factories and offices. This year we have seen an increasing share of energy consumption generated by fossil free sources for our Scandinavian and lights operations, achieving 81 and 65 percent respectively of their total energy used. The remaining focus is on our US facilities, where currently only 6 percent of the energy used is fossil free.
In 2019, we have initiated a review of emission factors. Most of the emission factors have been updated according to the latest publication from UK Department of Environment, Food and Rural Affairs (DEFRA). We have started a pilot project to engage our suppliers more in the data collection process, in order to provide more specific and accurate data throughout the value chain. This year, collaboratively with the vendor, we identified an emission factor for our nicotine source, which is used in most of our nicotine pouch products. On a per can basis, the carbon footprint for nicotine salt usage in our ZYN product is lower compared with that for tobacco usage in our snus product. While the growth of ZYN will increase our total CO2e emissions, it has a positive impact on our Improve Public Health focus area.
To further strengthen internal knowledge in the area of GHG accounting and reporting, we have initiated a series of webinars for all divisions, based on the GHG Protocol.
In order to streamline the reporting process and improve visibility and control, we have started implementation of a sustainability reporting system to be used by our divisions and suppliers.
As part of the overall update and continued refinement of our GHG accounting, Swedish Match has engaged in conversations with some of our main tobacco suppliers that are in the forefront of GHG emission reduction, ITC and Universal Leaf. Together we aim to identify the main sources of emissions for Swedish Match tobacco and further develop a more accurate emission accounting.
| Greenhouse gas emissions (metric tons CO2e)1) | 2019 | 20182) | 20172) |
| --- | --- | --- | --- |
| Scope 1 | 9,564 | 9,434 | 10,082 |
| Scope 2 | 22,029 | 21,744 | 20,632 |
| Scope 3 | 166,055 | 168,132 | 167,764 |
| Total emissions | 197,648 | 199,309 | 198,478 |
| Percent change total emissions | –0.8 | 0 | N/A |
| Total emissions per MSEK sales3)4) | 13.8 | 15.0 | 16.4 |
| Percent change per MSEK sales | –8.5 | –8.3 | N/A |
| Total emissions per unit of production3)5) | 73.6 | 71.1 | 70.6 |
| Percent change per unit of production | 3.5 | 0.8 | N/A |
1) Data excludes newly acquired Gotlandssnus facility.
2) Figures restated due to refined data collection.
3) Figures restated following further analysis.
4) Net sales from product segments in local currency terms with the 2019 average exchange rates.
5) Unit of production uses weighted average based on millions of cigars, matches, lighters and cans of snus and thousands of pounds of chewing tobacco.
| Energy use in our own operations (MWh)1) | 2019 | 20182) | 20172) |
| --- | --- | --- | --- |
| Direct energy use | 87,430 | 87,240 | 90,893 |
| Indirect energy use | 89,656 | 89,697 | 87,680 |
| Total energy use | 177,086 | 176,938 | 178,573 |
| Total energy use per MSEK sales3)4) | 12.3 | 13.4 | 14.8 |
| Total energy use per unit of production3) | 65.9 | 63.1 | 63.5 |
| Percent of fossil free energy | 44.7 | 44.5 | 45.0 |
1) Data excludes newly acquired Gotlandssnus facility.
2) Figures restated due to refined data collection.
3) Figures restated following further analysis.
4) Net sales from product segments in local currency terms with the 2019 average exchange rates.

2019 Swedish Match and Sustainability
Going forward
Continued shift to fossil free energy sources for heating in our factories and offices.
Actively seek new opportunities to reduce our carbon footprint in plastic for consumer packaging.
Continued shift to low emission vehicles across the Group.
Additional projects have been initiated to review tobacco and wood emission factors in depth, incorporating suppliers' input to further improve our GHG accounting visibility and to better guide our emission reduction efforts. We plan to finalize the review in 2020.
Global implementation of the sustainability reporting system to be completed ahead of 2020 annual reporting.
Page updated Mar 11, 2020