News; Nov 1, 2009 11:00 PM CET
Swedish Match rewarded for successful employer branding effort
In Universum's annual career survey, which lists Sweden's most attractive employers from the viewpoint of economists and engineers, Swedish Match was voted Newcomer of the Year by 11,000 sought-after young professionals.
"The career survey involves attracting sought-after young professionals. It is particularly gratifying to be voted Newcomer of the Year, which confirms the effectiveness of the concepts and strategies used in our employer branding efforts," says Roine Nygren, HR Director for the Smokefree Division Supply chain.
Intuition and hard work
In Universum Communication's career survey, about 11,000 individuals under 40 years, with up to eight years of work experience after completed academic studies, responded to questions about their attitudes to work life and careers and listed the employers they would prefer to work for.
Swedish Match was nominated in the Newcomer of the Year category, along with Fabege, the Swedish Financial Supervisory Authority and SaaB. Universum Communication's reasons for selecting Swedish Match were as follows: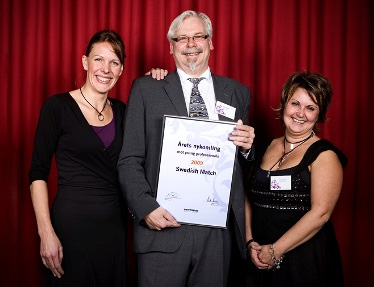 "The Newcomer of the Year has, in a short time, succeeded in achieving clear and strong results in the Young Professionals target group. The winner was able to intuitively highlight its own young professionals, which, in a distinct and exciting manner encouraged the Young Professionals group to perceive the company as an attractive future employer. Understanding the significance of employer branding was further established on several different levels in the company, which generated a clear and strong commitment to the issue. Through its hard work on employer branding, the winner demonstrated the considerable latitude of the opportunities and fields of operations that exist in the company, which expanded the recruitment base for the winner in the Young Professionals target group."
Creating an image
Universum's survey showed that image and a strong brand are more important than in the past in the search for a suitable employer. Salary and development opportunities are still assigned high priority but future talents are placing more emphasis on an employer's good reputation.
Maja Fingalsson, HR Director of Scandinavia Sales, comments on Swedish Match's employer branding work in recent years.
"The successes are the result of a steady effort that commenced in autumn 2007. In order for the brand to be perceived as strong, the company's own view must match that of the world around us. The starting point was that we had a very strong identity, but an unclear image. Transparency and honesty are important," says Maja.
To increase awareness of the company, Swedish Match participated in Åre Skiweek, where a number of companies assembled to meet students and talk about their companies. Another strategy was to become visible in such target-group-coordinated channels as Universum's various university magazines and supplements to the daily press.
"During 2010, we will continue our successful employer branding effort and strengthen the brand internally and externally," says Roine. "We have and will continue to recruit the best. If we, as a tobacco company, must fight for future young professionals, we will have to clearly demonstrate the opportunities that we as an international Group can offer in terms of career paths both internationally and nationally."
Written by:
Linda Johansson