News; Aug 14, 2007 10:00 PM CET
Arrival of Onico Juniper Berry
The TOBACCO- AND NICOTINE-FREE portion-packed snus segment continues to grow in Sweden. We are now launching a new flavor: Onico Juniper Berry.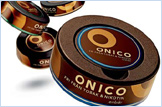 "Onico's success has clearly demonstrated the need for a snus-like product that is free from tobacco and nicotine," says Anna Lekander, PR Manager, Brands, at Swedish Match North Europe Division. It is gratifying to celebrate Onico's first anniversary with a new flavor. Consumer surveys conducted by Swedish Match have shown that snus users want a fresh-tasting product that is reminiscent of tobacco. This has resulted in Onico Juniper Berry, which has a tobacco-like flavor with a certain amount of sweetness and a hint of juniper berry and fresh herbs.
In addition to Swedish stores, Onico can also be purchased through the website: www.swedishsnus.com. Orders can be made from most countries.