News; Jan 14, 2014 10:44 AM CET
Swedish Match launches new snus range – General Variation
The story of General began back in 1866 with the founder Johan A Boman's search for the perfect snus. It was a search that would require four years of experimentation before he was satisfied with his recipe. Today, General is recognized as the original Swedish snus and has grown to become one of the world's best-known snus brands. In keeping with this heritage, Swedish Match has now developed a new product range focused on sophisticated flavors, genuine craftsmanship and multifaceted enjoyment. General Variation - A flavorsome evolution of the original Swedish snus.
"General Variation is a range of well-balanced products with tobacco-oriented and sophisticated flavor profiles. The flavors and taste profiles have been specially developed to suit the respective formats, providing each product with the best enjoyment experience. The result is a diverse offering of unique and flavorsome experiences for all who love the Swedish original snus, but who seek to vary their use of snus," says Fredrik Beltzér, Marketing Manager Swedish Match.
"We are now proud to be able to present the first two taste profiles in the General Variation range: Smoky Oak, an original portion, and a white portion called Rustic Blend. the Original portion Smoky Oak and a white portion called Rustic Blend. General Variation is here to stay and we look forward to further developing this new snus range to be able to satisfy consumers' demands for variation," concludes Fredrik Beltzér.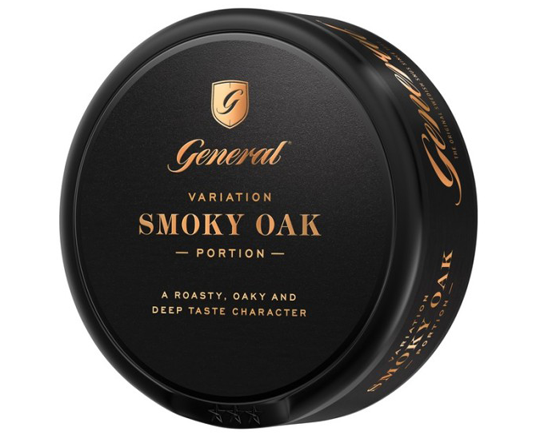 Product description
SMOKY OAK Original Portion
24 gram
Full-bodied and rich tobacco character with notes of tar, pipe tobacco, bonfire and oak, with subtle hints of bergamot and leather.
RUSTIC BLEND White Portion
21.6 gram
Full-bodied and spicy tobacco character with notes of dried herbs, citrus and pepper, with subtle hints of resin and rosemary.
The products will be launched nationwide in Sweden and Norway during the week starting January 20.