News; Jan 30, 2017 12:30 PM CET
With Kaliber+ we've added more of the best
At the end of January, the latest addition to the Swedish Match range, Kaliber+, was launched widely in the Swedish retail trade. Kaliber+ is a further development of the Kaliber series, in which Swedish Match has prioritized a stronger product with a more fully packed portion and greater flavor. Two varieties of Kaliber+ will be launched, original and white, at a price of SEK 29 per can in Swedish Match Stores.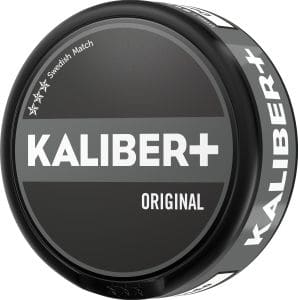 "We are truly delighted with Kaliber+, a snus product that is perceived as being midway between traditional snus and our premium segment. Swedish Match consumers have never been asked to compromise on product quality, and Kaliber+ expresses exactly that," says Felix Sundström, Brand Manager for Kaliber+ at Swedish Match.
Kaliber+ Original has a dark and spicy tobacco character with hints of lingonberry and bergamot, as well as a touch of cocoa and bitter orange, and Kaliber+ White has a light and spicy tobacco character with hints of bergamot and tea, as well as a touch of rose and cardamom. A can contains 20 portions, which have a more robust flavor than traditional Kaliber.
"We have long wanted to supplement our Value Price portfolio – snus products for the price-conscious consumer, which are manufactured to the same quality as all of our snus. Coupled with the price-conscious consumer is quality awareness; a large number of brands are currently available in this segment and, with Kaliber+, we're ready to take up the battle for market share in 2017," says Felix Sundström.
As of January 23, Kaliber+ is available in tobacconists, service stations, supermarkets and, naturally, in the Swedish Match Stores in Stockholm, Gothenburg, Strömstad and Åre.

For further information, please contact:
Carl Danielsson, Press Officer
Tel: +46 725-71 23 63
E-mail: carl.danielsson@swedishmatch.com
Felix Sundström, Brand Manager Kaliber
Tel: +46 0703-37 34 52
E-mail: felix.sundstrom@swedishmatch.com